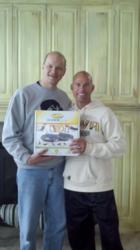 We are in the Midwest and on the West Coast looking to expand our reach.
(Vocus/PRWEB) March 30, 2011
In down times, two of the areas that are affected are state budgets and donations to charitable institutions. Just ask the state of California or the Catholic Church. What happens next is that any extra programs are not renewed or left to die. The trend in our society has shown that when the money is not there, the healthy lifestyle suffers the most. This means fitness programs are at risk in our school systems and church youth groups. "Over 50% of our children are overweight or obese. "I thought with the economy as it is, this was a perfect opportunity to get my product into the hands of those who need it most but might not have access to it," says David Miller, creator of the Slidercise training system.
The company, Build The Best You, is based out of the Midwest, with Slidercise being manufactured in the small town of Galesburg, IL. "We're all about the heartland, literally, there's a lot of love here. Most of the people involved with the company are from my church or church affiliated organizations, it just happened that way. This is also how I found out that many youth pastors are trying to get the kids away from the Xbox and into some form of exercise program. Why not help plant the seed to get them going," says Miller.
Build The Best You not only focuses on the aspect of exercise but on the side of nutrition and overall wellness through The Naked Truth Diet web site. Each participant enjoys a private online journal containing room for both personal and fitness journaling. There is also a graphing system that records your daily weight and, on a scale of 1 to 10, how you feel emotionally, physically and mentally. This enables the individual to follow trends in these areas and help pinpoint any troubled spots. Also provided are a calorie counter and a health library covering topics from how to lose body fat to how important forgiveness is to your well being. Miller says, "I believe exercise and nutrition go hand in hand. It would be hard to provide people with a great exercise system and not help them with their dietary lifestyle. That's half the battle."
If your church or school could benefit from Slidercise or The Naked Truth Diet, please send an email to Davidmiller@buildthebestyou.com.
About Build The Best You:
David Miller developed the company around his revolutionary fitness product - Slidercise. Along with his interactive web site, The Naked Truth Diet.com, he offers all the tools needed for an individual to achieve their fitness and nutritional goals - a calorie counter, fitness journal, and enough motivational articles to inspire a change in everyone.
###