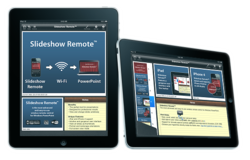 Slideshow Remote from LogicInMind finally puts the controls in your hand, and allows you to focus on what a presentation should really be about: presenting rather than wrestling with technology
(PRWEB) February 27, 2012
LogicInMind has extended the Slideshow Remote™ 2.8 features with a PowerPoint and Keynote viewer, along with easy document sharing via iTunes for Mac and Windows. This release offers professionals two innovative tools gathered in one single application: a remote control for Windows PowerPoint and a mobile PowerPoint and Keynote viewer.
POWERPOINT AND KEYNOTE VIEWER
This new Slideshow Remote release displays PowerPoint and Keynote presentations without the need of a desktop server to convert files. Users have the opportunity to transfer a complete document library onto their Apple device. Once on the device, Slideshow Remote will display current slide, next slide and thumbnails. The controls are easy to use and three output modes are offered: to HDTV through an Apple VGA adapter, to HDTV via Apple TV or to your PC monitor via Logic Server.
EASY DOCUMENT SHARING
Transferring files to Slideshow Remote has never been as easy. Users simply have to tap and hold on e-mail attachments and select "Open In… Remote" in order to view the document with Slideshow Remote. This command is also available in the Mobile Safari web browser and in other selected applications. A second option is to use the iTunes desktop application for Mac and Windows. Users select their mobile device in iTunes's device list, open the "App" tab and drop files onto the Slideshow Remote icon. Files are immediately synced with no need for further action. In both cases, files are stored in the document folder on the mobile device and will be accessible from Slideshow Remote.
INNOVATIVE FEATURES
Slideshow Remote is the most advanced remote control for Windows PowerPoint and offers more than 25 innovative features, including: personal notes, live annotation, touchpad, trackpad, scrollpad, laser pointer, screen auto-refresh, timer, audio and vibration feedback, switch between active and recent documents, support of high definition Retina display, AirPlay and AirPrint.
"Slideshow Remote from LogicInMind finally puts the controls in your hand, and allows you to focus on what a presentation should really be about: presenting rather than wrestling with technology", said Bonnie Eisenman, 148Apps reviewer.
PRICING & AVAILABILITY
Slideshow Remote Lite is available for free in Apple's App Store. Slideshow Remote Pro is available either as in-app purchase or in Apple's App Store for $4.99 in the U.S. and priced accordingly in other regions. It requires a personal computer, Microsoft Windows (XP/Vista/7), Microsoft PowerPoint (2003/2007/2010), a Wi-Fi network (LAN or ad hoc) and Logic Server, available as a free desktop program from LogicInMind. AirPlay requires the new Apple TV. External display requires a compatible monitor, Apple VGA adaptor and an iPad/iPhone 4/iPod touch 4th generation. AirPrint requires iOS 4.2 and a compatible printer. Mac is not supported at this time.
Please visit http://www.logicinmind.com to learn more about Slideshow Remote, including the extensive feature list and the image gallery. Journalists and application reviewers are invited to contact us to test drive Slideshow Remote using free promo codes.
LogicInMind is a professional software developer devoted to creating innovative applications for mobile users. The company's success is based on leadership in innovation and customer satisfaction. LogicInMind donated 10% of its 2011 gross income to Red Cross in support to our community.

PRESS RELATIONS

Slideshow Remote and Logic Server are trademarks of LogicInMind.
iPad, iPhone, iPod touch, Keynote, iTunes, App Store, AirPrint, AirPlay and Apple TV are trademarks of Apple.
Windows and PowerPoint are trademarks of Microsoft Corporation.
###