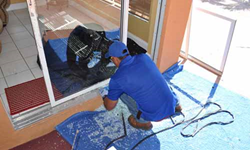 We are doing the same thing with our blog archive, adding new glass repair stories to keep our Miami and South Florida community informed about everything relating to glass repair and replacement
Miami, Florida (PRWEB) June 24, 2016
Express Glass and Board Up, one of the top-rated sliding door repair services, is proud to announce new additions to the company blog archive. This update consolidates many topics into an easy-to-use format for readers, and brings together topics about repairs to windows and sliding glass doors.
"The public libraries are such a great resource for our cities," explained Yaniet Santos, general manager of Express Glass. "Information is free and helpful to the community. Also, libraries keep adding new books to their shelves. We are doing the same thing with our blog archive, adding new glass repair stories to keep our Miami and South Florida community informed about everything relating to glass repair and replacement."
To review the newly added blog postings, go to http://www.expressglassfl.com/blog/category/sliding-door-repair/.
Resources for sliding door repair and glass replacement topics are available for Miami and other Florida communities to review. Users can just scroll through the archive at the click of a mouse.
The Doors Never Close for Sliding Door Repair Topics in Miami
Miami's public libraries have evolved into information centers as well as places where great stories can be found. Normal daily visitors may be students searching for book report topics, or people reading "how to" books from home repair to knitting dog sweaters. Once closing time arrives, Miami locals must check out any items of interest and leave the library behind. It may be difficult to walk away from archives loaded with helpful information. For the subject of sliding door repair topics, Miami residents don't have to wait on library time.
Express Glass, known among the common folk as Miami's sliding door repair expert company, has consolidated informative topics including "when to repair a sliding door" and "how to prepare windows for hurricane season," now ready to review. When a Miami resident is searching for tips and advice about how to repair or replace a broken glass, the information is online at the company site. Like the local library, the knowledge is free. Unlike the local library, the doors are open on the blog archive 24 hours a day.
About Express Glass and Board Up
Express Glass and Board Up Service is a family owned and operated glass repair business with more than 20 years of experience. Professional technicians and the large variety of inventory make Express Glass a highly-rated glass repair service. If customers are looking for Miami sliding door repair, as well as sliding glass door repair in Delray Beach or West Palm Beach, please reach out to the company for a free estimate. If customers need a 24 hour emergency service for sliding glass door replacement in Miami, Fort Lauderdale or Miramar, technicians are standing by. The company specializes in 24 hour emergency sliding glass door repair and home window glass repair; technicians will handle any glass replacement situation efficiently. Home or business glass repair is the company's main priority.
Express Glass and Board up
http://www.expressglassfl.com/