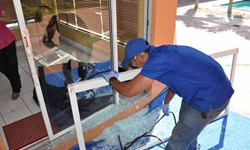 In our mind when a customer is victimized by a crime, that is one crime too many. Therefore, we are continuing our commitment to free estimates on glass repair, especially sliding gla
West Palm Beach, FL (PRWEB) February 27, 2015
Express Glass & Board Up, a top-rated sliding glass door repair and replacement service in West Palm Beach, is proud to announce that it is continuing its commitment to no cost estimates on glass repair, including sliding glass door repairs, for West Palm Beach businesses and residences, even amidst a substantial decline in property crimes in the city.
"Crime is down in West Palm Beach and that is a good thing," said Yaniet Santos, general manager of Express Glass. "However, the city still had more than 8,000 property crimes in 2014, and in our mind when a customer is victimized by a crime, that is one crime too many. Therefore, we are continuing our commitment to free estimates on glass repair, especially sliding glass door repairs, in West Palm Beach."
To learn about the company's West Palm Beach services, please visit http://www.expressglassfl.com/west-palm-beach-glass-window-repair/. There one can request an estimate by phone or Internet web form.
Crime in West Palm Beach: One Crime is One Crime Too Many
The West Palm Beach police department has released statistics on 2014 crimes in West Palm Beach. In that documentation, one can read that property crime has declined from 2011 to 2014. The company applauds the hard work of the police department and the West Palm Beach community in bringing down property crimes. That said, Express Glass & Board Up is on the "front lines" of crime clean up in the city. Many burglaries occur via sliding glass door repairs in particular, as they are relatively easy to either break or jimmy open. The company has a 24/7 emergency service, and receives many calls by frightened business owners and residents who have been subject to a burglary. The fact that the burglary occurs is traumatic enough; even with a decline in crime, even one crime is one crime too many. But many people do not realize that these people are victimized in another way: by the anxiety of having a broken, "open" door or window through which another burglar could enter. The company's long-standing policy of no cost, no commitment estimates is a way that the company continues to support the community, even amidst a much-welcomed decline in property crimes in West Palm Beach, Florida.
About Express Glass - West Palm Beach
Express Glass and Board Up Service Inc. is a family owned and operated glass repair business with more than 20 years of experience. Their professional technicians and the large variety of inventory make Express Glass the top glass repair service. If customers are looking for West Palm Beach glass repair, please reach out to the company for a free estimate. If customers need a 24/7 glass door repair service in West Palm Beach, technicians are standing by. The company specializes in glass door repair and window glass repair; technicians will handle any glass replacement situation efficiently. Home or business glass repair is the company's main priority.
Express Glass & Board Up
http://www.expressglassfl.com/
Tel. 561-470-6002