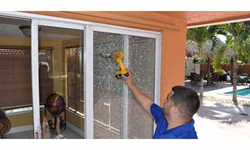 Our customers expect more from glass doors and windows these days
West Palm Beach, FL (PRWEB) January 27, 2016
Express Glass & Board Up, South Florida's five-star rated glass repair and replacement service, has released an updated informational page on glass replacement options for West Palm Beach residents. Sliding glass door replacement requires various types of glass available at a moment's notice. Residential and commercial businesses can access the best type of glass to replace a broken sliding glass door.
"Our customers expect more from glass doors and windows these days," commented Yaniet Santos, General Manager of Express Glass. "They want sliding glass doors to help protect their property against hurricane and sun damage as well as vandalism. Our newly update page offers all the ways customers can help secure their homes and businesses with the type of glass that works best for them."
To review the updated informational page about different types of window and sliding door glass replacement, go to: http://www.expressglassfl.com/home-window-repair/glass-repair-replacement/. Details about 24 emergency service for sliding glass door replacement and repair are also available to West Palm Beach residents.
West Palm Beach: Sliding Glass Door Replacement Just Got Personal
Sliding glass door repair for a home or business can become an individual experience. In Florida, the best choice for sliding glass door and window replacement depends upon specific customer needs. Store owners may require sturdy door glass to lessen the impact of high winds and intense sunlight. The goal of a homeowner may want enjoyable backyard views from large patio windows that also conserve indoor energy. In West Palm Beach, choosing the right glass for a specific sliding glass door replacement is vital. Understanding the best choice in glass replacement during a crisis can save time and money.
The update to the informational page about different types of window and door glass helps both business and home customers in West Palm Beach investigate their options, online, before reaching out to a sales or installation representative. The informational page details options such as: high-impact glass, tempered glass and insulated glass. Information about every option in sliding glass door replacement is available to West Palm Beach locals. 24 hour emergency glass repair service, and knowledge of the right professional to call, make sliding glass door replacement easy and affordable for individual Florida residents.
About Express Glass and Board Up
Express Glass and Board Up Service Inc. is a family owned and operated glass repair business with more than 20 years of experience. Their professional technicians and the large variety of inventory make Express Glass the top glass repair service. If customers are looking for sliding glass door replacement in West Palm Beach, Miami glass repair or Ft. Lauderdale glass repair, please reach out to the company for a free estimate. If customers need a 24/7 emergency sliding glass door replacement service along the Florida coastline, technicians are standing by. The company specializes in sliding glass door repair and replacement as well as window glass repair; technicians will handle any glass replacement situation efficiently. Home or business glass repair is the company's main priority.
Express Glass Repair and Board up http://www.expressglassfl.com