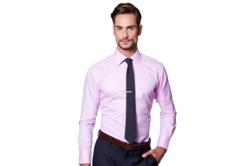 We want to make it so that even the most budget-conscious guy can afford quality shirting that fits.
New York, NY (PRWEB) May 29, 2013
Spectre & Co., a new e-commerce startup, was founded in early 2013 with one goal in mind: to make luxury-quality, slim fit dress shirts available to the fashion-conscious man at extremely affordable prices. "Men are learning to dress better and better everyday, and menswear has never been as big as it is right now," says Jeffrey Zhang, founder of Spectre & Co. "But, the one thing that hasn't really improved much, at least when it comes to high-quality shirting, is price. We want to change that. The shirt, whether dressy or casual, is the staple of a man's wardrobe, and it should by no means cost an arm and a leg. Our target demographic is the man that loves quality menswear, but isn't always willing to spend $150, $100, or even $75 on that perfect dress shirt." The majority of the retailer's offerings are under $50.
The idea came about last summer, when he was looking to buy the perfect white dress shirt for a wedding. "I was so surprised at the trouble I was having finding a high-quality but affordable white shirt that also fit well," says Zhang. While looking, he found that more affordable big box retailers had issues with quality and fit, while the shirts from higher-end stores were too expensive, with prices that ranged anywhere from $100 to $200. Shopping online was a little better. "I was extremely impressed by how much thought online shirtmakers put into fit, quality, and customer service, but many of them were advertising $100 shirts as affordable, which I found more than a little jarring. I ended up paying $125 for that perfect white dress shirt from an online store. It's a great shirt, but I wasn't quite happy with how much I paid for it." That's where Spectre & Co. comes in. "I love the menswear revolution, and it's fantastic that men are taking the time to improve their appearances, but at times, it's not the most price-accessible of movements. We want to make it so that even the most budget-conscious guy can afford quality shirting that fits."
Customers can learn more about the company and dress shirt fit at the Spectre & Co. website, and can take 10% off their first purchase if they Like the page on Facebook.
Spectre & Co.'s high threadcount, 100% two-ply cotton, slim fit dress shirts start at just $45, with free shipping in the United States as well as free returns for first-time customers. The shirts come in a standard slim fit measured by neck and sleeve size, and are constructed with less fabric in the torso and waist to prevent billowing, for a look that is both stylish and comfortable. The online shop also looks to solve one of the biggest problems customers face when buying off-the-rack shirting. "The biggest request that we had was for custom sleeve lengths, and we listened. We know that not everyone fits into the standard collar size/sleeve lengths, so if the customer needs shorter or longer sleeve lengths, we're more than happy to oblige, free of charge," says Zhang.
Striking the perfect balance between the ease of shopping off-the-rack and the fit solutions of made-to-measure took a little research. "We actually conducted a survey of men who shop made-to-measure dress shirts, asking them what their favorite and least favorite parts of the shopping experience was," says Zhang. "We learned that for a majority of men, the most frequently mismatched part of a shirt is the sleeve length, with many participants of the survey mentioning that the body of many off-the-rack options fit well, resorting to made-to-measure only because of sleeve length issues. We also learned that the biggest turn-offs of the made-to-measure experience are the overwhelming number of measurements and options, turnaround time, and cost. Many men that we interviewed conveyed that their first experience with made-to-measure took more than a month of back and forth communication to get the shirt right." Spectre & Co. offers the best of both worlds with affordability, simplicity, and a fast turnaround time on custom sleeve length orders that are also free of charge.
Spectre & Co. employs a completely vertically integrated production process with no middlemen, which means that costs are kept low and that from the mills abroad to the racks in New York, every detail, stitch, and button falls under one standard of quality with one person in mind: the customer. Spectre & Co.'s ownership of production and distribution without third parties keeps the lines of communication clear and creates value that the end consumer can see. The company also has over 100 years of combined experience in the garment industry, with pedigrees in the design and production team from renowned shirtmakers such as Ascot Chang.
With Father's Day just around the corner on June 16th, a Spectre & Co. slim fit dress shirt makes the perfect luxury gift for the stylish dad, without costing a fortune. Standard size orders are guaranteed for Father's Day delivery if the order is placed by June 8th.
For more information about the company, product, or sample merchandise, please contact Jeffrey Zhang at jzhang(at)shopspectre(dot)com or by phone at 914-589-0982.