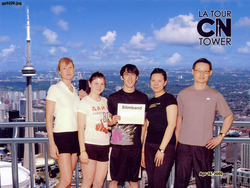 Toronto, ON (PRWEB) April 22, 2009
A team of Slimband employees successfully competed in the 19th Annual Canada Life CN Tower Climb for WWF-Canada that took place on April 16th. The CN Tower Climb is a demanding competition in which competitors race up the 1,776 steps (or 144 flights) of the CN Tower. This year more than 400 teams and over 2,200 climbers competed in the Team Challenge division.
The CN Tower Climb is not only a great physical challenge, but also a fantastic fundraising event. The event's main purpose is to raise funds for the World Wildlife Fund, and in turn combat global warming - our greatest current environmental threat. Slimband's fundraising efforts contributed over $500 to the cause.
The Slimband team, consisting of members David Ku, Ioana Pescarasu, Leo Palermo, Jen Prosen and Yvonne Tsui completed the trial in fantastic time - all well under the average time of 25 - 40 minutes. A standout performance however, was that of Leo Palermo who completed the climb in 15 minutes and 58 seconds, placing him amongst the top 10 competitors.
Slimband congratulates these employees not only on their completion of the climb, but also on their support of the WWF through fund raising efforts.
About Slimband™
Slimband™ is one of the largest and most respected weight loss surgery and treatment centers in Canada. Slimband™ specializes in reversible laparoscopic weight loss surgery with a unique aftercare program that includes nutritional counseling, coaching, fitness programs and fill adjustments. Clients benefit not only from safe, fast weight loss but also experience increased energy levels and the control or elimination of weight-aggravated conditions like heart disease, high cholesterol, and type II diabetes. Slimband™ has helped more than 2,000 patients fulfill their dreams of looking and feeling their best.
###