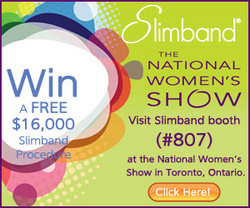 This is possibly one of the biggest prizes being given away at the National Women's Show this year! Everyone who is interested in losing weight should drop by Slimband's booth #807 to enter.
Toronto, ON (PRWEB) October 22, 2010
If you've always wanted to lose weight but felt that weight loss surgery was out of your reach because of the associated costs, then now's your chance of a lifetime as Slimband announces a special attendee sweepstakes promotion for the 2010 National Women's Show in Toronto, ON, November 5 - 7, 2010.
The prize package, a Slimband gastric banding procedure valued at approximately $16,000, will be awarded to one lucky National Women's Show attendee on November 10, 2010.
To enter the drawing, attendees must visit the Slimband booth (#807) to complete and submit the contest registration form prior to 5:00 pm on Sunday, November 7, 2010. Only one entry per attendee is allowed. The winner will be chosen by random drawing and need not be present to win. Official rules and requirements are available online at http://www.slimband.com/nationalwomensshow/
One of the biggest events of its kind, the National Women's Show is a three-day event that has something for everyone. Food and wine sampling, fashion and beauty, celebrity speakers, fashion shows, free makeovers, entertaining ideas, weight loss solutions, travel, cooking demonstrations and of course-shopping!
For a specially discounted entrance free coupon from Slimband please visit http://www.slimband.com/nationalwomensshow/coupon
About Slimband
Slimband® is one of the largest and most respected weight loss surgery and treatment centers in Canada. Slimband® specializes in reversible laparoscopic gastric banding with a unique aftercare program that includes nutritional counseling, coaching, fitness programs and fill adjustments. Clients benefit not only from safe, fast weight loss but also experience increased energy levels and the control or elimination of weight-aggravated conditions like heart disease, high cholesterol, and type 2 diabetes. Slimband® has helped more than 5,000 patients fulfill their dreams of looking and feeling their best.
About The National Women's Show
The National Women's Show is produced by National Event Management. With over 30 years experience, National Event Management produces some of the largest & best-attended shows in North America.
###