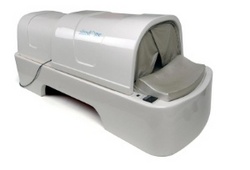 When people think of sweat, they generally think of water-based perspiration
DALLAS (PRWEB) August 21, 2007
"When people think of sweat, they generally think of water-based perspiration," said Pascal Servell, clinical director of MedSurge Advances. "Many people don't realize that it is also possible to sweat oil -- shedding calories that come off and stay off. This is the kind of fat-burning sweat induced by the Slimdome.
"Because its FIR emissions are able to induce up to three times the sweat volume of a hot-air sauna while operating at a significantly cooler temperature range, the Slimdome is able to generate not only water-based sweat for thermoregulation (from the eccrine and apocrine glands), but also oil-based sweat to coat the skin and ward off dehydration. This perspiration from the sebaceous glands -- typically produced during endurance training -- is known as 'marathon sweat(TM).'"
Slimdome technology was validated in a 2007 white paper by Dr. Serge Mordon, research director for Inserm, the French public health ministry. According to Mordon: "A 40-minute stay in the Slimdome can result in a reduction in body weight similar to the reduction induced by physical exercise."
"The experience is much like being in a tanning bed," said Slimdome user Judy Tanzer, who lost 3.5 pounds in her first 10 days of treatment and has continued to lose weight since. "It's a warm, cozy feeling -- very relaxing. When you're finished with your session, you're totally refreshed."
Slimdome, adapted from Japanese technology designed to detoxify the body, provides benefits beyond weight loss, such as improved skin tone, reduction of joint pain and inflammation, blood oxygenation, increased circulation, and the release of stored heavy metals and toxins.
Availability
Slimdome, along with the Vybe(TM), MesoMassage(TM), Acoustic Wave Therapy(TM) and Cell Activation Therapy(TM), is a core technology of physician-owned futureperfect Total Body Management Centers. Interested physicians are asked to contact Jennifer DeLaughter at 877.804.9460 or by e-mail at jdelaughter@medsurgeadvances.com. Female consumers can learn about Slimdome at the flagship futureperfect Total Body Management Center in the Dallas suburb of Plano, 972.505.2927. To view a video of the Slimdome in action, visit http://www.futureperfect.com/slimdome.php.
Slimdome at Cosmetic Enhancement Expo 2007
The Slimdome and other futureperfect technologies will be demonstrated at the Cosmetic Enhancement Expo, Sept. 8-9 at Dallas Market Hall. To learn more about the event, visit the Cosmetic Enhancement Expo blog at http://dallasexpo.wordpress.com.
About futureperfect Total Body Management Centers
futureperfect(TM) Total Body Management Centers are a new, technology-driven concept in health and fitness by MedSurge Advances -- an evolution of the medical spa called a fitness spa(TM) or FitSpa(TM).
Utilizing exclusive technologies from Europe and Japan, futureperfect delivers tailored results based on individual goals of fat reduction, body shaping, muscle toning and skin firming and smoothing. futureperfect technologies safely burn fat and tone the body by increasing metabolism, mobilizing fat in the blood, and emulsifying fat. Women experience substantial fitness benefits with only light exertion, because the technologies do much of the work.
futureperfect is a comprehensive system that includes nutrition, a support network and medical supervision. Each futureperfect customized plan is designed with the input and oversight of a medical professional and a registered dietician. Designed for women, futureperfect is a breakthrough for those who have been unable to achieve their body-appearance goals through traditional means. For more information about futureperfect, call 972.505.2927 or visit http://www.futureperfect.com.
About MedSurge Advances
Based in Dallas, MedSurge Advances helps physicians across the United States build and manage their practices in aesthetic medicine, one of the fastest-growing healthcare segments. Since its founding in 2002, MedSurge Advances has provided technology and business resources for hundreds of physicians who have started stand-alone businesses or added aesthetic procedures to their existing practices. For more information, contact MedSurge Advances at 877.804.9460, or visit http://www.medsurgeadvances.com.