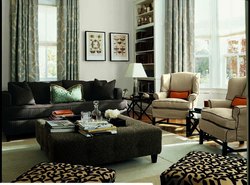 Think of slipcovers like a pretty new dress for your furniture. Textured and patterned fabrics will help you create the look you want.
Kennett Square, PA (Vocus) August 5, 2008
So, you've painted the walls and dressed the windows, but the room still doesn't say, "Come in and enjoy!" The problem could be with the furniture--and the solution is more affordable than you think. Slipcovers are often overlooked as a design solution for upholstered furniture, but designers at Calico Corners - Calico Home say they are incredible transformers.
"Slipcovers can be an extreme makeover for furniture that looks a little tired--at less than the cost to reupholster," says Jan Jessup, national spokesperson for Calico Corners. "Think of slipcovers like a pretty new dress for your furniture. Textured and patterned fabrics will help you create the look you want."
Do you need a more formal look? Slipcover a sofa or chair in a classic damask fabric or a regency stripe. For a casual look in the family room, choose a washed denim, a washable Sunbrella texture or a slubby linen blend that is both stylish and comfortable.
Have your dining room chairs seen better days--and the family is coming to your house for the holidays? Slipcovers for dining room chairs can be a fun cover-up that allows more styling options than if you reupholster. For example, you might add a flirty skirt with contrast welting and fabric-covered buttons down the back to add to the festive mood for special occasions.
But beware the 'slipcover' options from many big-box stores. "There's no comparison between a slipcover that is custom-made just for you and your furniture and the one-size-fits-all product which is really just a huge fabric throw," cautions Jessup. "Unless you're a stylist or a seamstress, the pre-packaged slipcovers will soon look like an unmade bed."
Custom slipcovers, on the other hand, can transform your home each season and are a favorite tool of interior designers. Choosing the right slipcovers to change the look of a room takes some know-how, and the design mavens at Calico Corners can help. As one of the country's leading retailers of fabrics and custom furnishings, they make thousands of slipcovers each year. To help guide the process, Calico Corners has created "Top Ten Slipcover Tips" for the home decorator. Here are the highlights--more detailed information is available online:
1. Select a slipcover fabric of medium-weight so it can easily fit over a chair or sofa. Avoid heavy chenilles and velvets.
2. Choose a fabric that's tightly constructed and in a color or pattern that doesn't reveal the upholstery fabric beneath.
3. Textured fabrics such as twills, rep weaves, damasks and denim add visual interest and resist wrinkling.
4. A slipcover fabric should not have a latex backing; it will cause the slipcover fabric to buckle and wrinkle instead of sliding over the fabric beneath it for a smooth fit.
5. Slipcovers are suitable for fully upholstered furniture and some styles of furniture with exposed wood frames. A photograph of your existing furniture will help to make the right choice.
6. Slipcovers can be made to fit like a glove--or with a relaxed fit for a more casual look. Think through the styling you want.
7. Slipcovers are usually made with self-welting (the same fabric) or contrast welting. A contrast welt will draw attention to the lines of your furniture.
8. If your furniture has matching side pillows, use a contrast welting or brush fringe for visual interest on the pillows--even if using self-welting on the body of the slipcover.
9. Slipcovers will change the look, but not the sit or comfort of the furniture beneath. If your furniture needs a structural overhaul, consider reupholstery.
10. Have fun with slipcover lengths to create visual interest. On exposed wood frames, short and flirty or floor length styles will create dramatically different effects.
Slipcovers are perfect for second homes, for apartment dwellers wanting to upgrade inherited furniture, or for providing a seasonal change and a fresh look for warmer weather or holiday decorating. They're one of the most versatile custom fabricated items that you can have made. And because a slipcover is cut and fit right in your home, you won't be without your furniture. Plus good slipcovers last for years.
Celebrating its 60th anniversary in 2008, Calico Corners - Calico Home provides expert advice, decorating solutions and in-home consultation in more than 100 stores nationwide. In addition, consumers will find designer fabrics for the home, trims, custom window treatments, blinds, shades and custom upholstered furniture. Thousands of fabrics are available online. For more information on Calico Corners or Calico Home products and services, or to find the nearest store location, visit http://www.CalicoCorners.com or call (800) 213-6366.
Images available in hi-res upon request. Please contact Linda Emmons at lemmons @ calicocorners.com
Contact:
Jan Jessup
(610) 444-9700, Ext. 262
publicrelations @ calicocorners.com
###