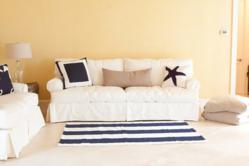 In celebration of Memorial Day, we are proud to offer a discount on these eco-friendly American made products
Vero Beach, FL (PRWEB) May 17, 2012
In celebration of Memorial Day, OurBoatHouse.com is offering up to 25% off on Slipcovered Furniture and Nautical Lighting now through May31st.
OurBoatHouse prides itself on finding American-made, nautical, classic, and comfortable home décor that brings character, warmth and uniqueness to a living space that are both elegant and practical.
"Our focus is on offering great pricing on a large variety of hard-to-find, unique coastal products." said Karen Marcil, owner and GM of OurBoatHouse. OurBoatHouse brings rare coastal furniture and home accents to buyers all over the world.
The following are just a few of OurBoatHouse's other Coastal Home Furnishing selections:
Slipcovered Sofa
Classic Slipcovered sofas, sleepers, sectionals, chaises, chairs and ottomans that are down-filled and designed for extreme comfort and affordability. Relax with the Casual Coastal style of easy-care washable slipcovers in crisp cottons, natural linens, denim, hemp fabrics and more that are replaceable and made in the U.S.A. Love your life and express your Style with these Timeless Eco-Friendly Choices.
Nautical Lighting
Our UniqueCoastal Style Lighting Collection from around the world is high quality and designed to complement your coastal style home and provide an historic beach home feel. Iron and rope chandeliers, copper fox lights, rustic lanterns with a time worn patina, rustic candle pendants, handmade sea shell chandeliers, authentic brass passageway lights, driftwood lamps, coral shell lamps, authentic brass dock and piling lights, USCG lights, plus much more
Coastal Style Accessories
OurBoatHouse.com offers a collection of accent pieces, accessories, wall hangings, trunks and benches that will add interest, texture, rustic warmth and time-worn imperfection that will turn your space into the perfect coastal paradise. Authentic nautical accessories and treasures from ships from around the world. Hard to find genuine nautical, maritime decor, collectibles and furnishings-sea glass floats, ship's bells, portholes, diving helmets, bulkhead lights, brass binnacles, brass ship lights, passageway lights, fox lights, and so much more.
Customer service is of the utmost importance at OurBoatHouse.com. Each piece in our collection has been selected for uniqueness, quality, durability, and affordability. Orders are filled and shipped promptly in keeping with the company's commitment to complete customer satisfaction. Feedback is always welcome and responded to in a timely manner by a friendly, knowledgeable crew member.
For interior and exterior coastal home design tips and new product reviews, visit the site's brand new blog, http://coastalhome.blogspot.com.