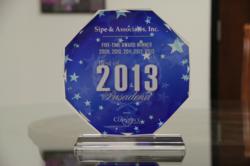 Pasadena, CA (PRWEB) June 20, 2013
Founder Susan L. Sipe and the rest of the SLS Consulting team are honored to receive the USCA Best of Pasadena Award in Internet Marketing & SEO Service for the fifth year running and hope to make it six years in 2014.
USCA "Best of Local Business" Award Program
The USCA was established to promote local business as well as identify and recognize the best of local businesses in their community. The "Best of Local Business" Award Program recognizes outstanding local businesses nationwide every year. These companies boost the positive image of small business through service to their community and their clients. The USCA makes their choices based on which companies have achieved exceptional marketing success in their business category and local community. Only one in 1,000 2013 Award recipients qualified as Five-Time Award Winners.
About SLS Consulting
For more than 10 years, Susan L. Sipe and her legal Internet marketing team has been helping attorneys and law firms optimize the growth and management of their practice through custom website design, social media marketing, brand development, search engine optimization (SEO) and content development. Every client's marketing plan is custom-tailored to each firm or business and its target audience.
The field of online marketing is ever-changing and what worked for businesses before does not necessarily work now. The online marketing team at SLS Consulting monitors any potential changes that could impact the efficacy of their clients' online marketing in order to provide the most relevant and effective service to their clients.