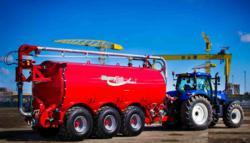 It is probably the lowest tanker on the market, featuring a totally unique 9m transfer boom for transferring the slurry across the widest drains and ditches.
NORTHERN IRELAND, (PRWEB) June 27, 2013
SlurryKat, a world leader in design, engineering and manufacturing of slurry-handling equipment, has successfully engineered a new SlurryKat 25000L Slurry Tanker, the largest built in the company's history. The fast-growing worldwide provider of slurry handling equipment for contractors and farmers produced the 25000L tanker in response to a request from UK-based farm contractors D&A Percival & Son for a first-of-its-kind tanker.
Following the tanker's successful prototype, the 25000L tanker marks a major development for the innovative SlurryKat engineering and design team, and puts SlurryKat in the forefront of the world's agricultural tanker manufacturing industry. SlurryKat's award-winning design capabilities have become the company's trademark, and the 25000L is no exception.
SlurryKat CEO Garth Cairns says the 2500L tanker was a challenge to create since its design and engineering is so far advanced.
"It is probably the lowest tanker on the market, featuring a totally unique 9m transfer boom for transferring the slurry across the widest drains and ditches," Cairns says. "The new 2500L tanker also incorporates our new "Hydra-Touch-Tech" control system, which means that every element of the tanker is controlled, adjusted and monitored by a touch screen system within the cab.
"It has a smooth ride, anti-surge system for "pulse free" road transport even in the roughest terrains."
In today's economic climate, the competitive slurry tanker market has farmers and contractors looking for the latest and best equipment, and the SlurryKat 25000L fills the bill.
Cairns says the key benefits of the 25000L include:

Its ability to fill in less than three minutes with only one suction hose.
Its unique featured SlurryKat power filling system with never-before seen design technology.
Its suitability for use on any terrain in any climate, having been tested in the harshest conditions Ireland has to offer.
Its front and rear steering axles for smooth and effortless maneuverability, even in the tightest gates and farm yards.
Its double "Vac Flow" to ensure 100 percent fill-up every time, even on uneven ground or slopes.
Its unique, "hi-tough" SlurryKat painted coating system, which keeps the machine corrosion-free for many years.
The award-winning Northern Ireland-based firm, which provides contractors and farmers worldwide with a range of equipment designed for effective slurry handling, designed the 25000L to be a "tanker with a difference" after the need for a tanker arose from their experience contracting customer, D&A Percival & Son who purchased three tankers previously and couldn't believe how efficiently and effortlessly they function. They wanted one of the most technically advanced tankers on the market with latest design and innovation.
D&A Percival tanker operator Shane Knight says the 25000L's ease of pull, comfortable ride and smooth hydraulic functions attributable to the touch-tech control system, make for a high quality operating experience.
"This tanker is so quick to fill, and it is by far the easiest to pull I have ever experienced in all my years of operating farm machinery," says Knight. "The technology and design in this tanker is far more advanced than any other I know of on the market."
SlurryKat provides super tankers to professional contractors and farmers worldwide.
"We believe that adding tankers that fit our customers' needs to our range of equipment will revolutionise slurry-handling practices for contractors and farmers globally," Cairns says.
For more information on SlurryKat equipment or becoming a SlurryKat dealer, visit the SlurryKat website, or email vania(at)slurrykat(dot)com, or call 0044 28 3882 0862.
About SlurryKat:
Since 2008, SlurryKat C.E.O. & Principal Consultant Engineer Garth Cairns has been developing a range of multi-award winning slurry handling equipment, and since 2011 has manufactured SK Trailers' silage and grain trailers.
SlurryKat supplies equipment to 18 countries and continues to expand its global reach each year. Slurry Kat is currently seeking dealerships worldwide to distribute the company's wide range of equipment.
SlurryKat has won numerous awards for its innovation and design, including "Company of the Year" presented from the Association of Charted Accountants, Ireland. Slurry Kat's reputation for excellence has earned the company recognition as a serious contender in the world-class market for unique agricultural slurry handling equipment. The SlurryKat equipment catalogue includes a full range of slurry equipment, including: dribble bars, tankers, trailers, pumping systems, reelers, flow metering systems, parts and accessories.