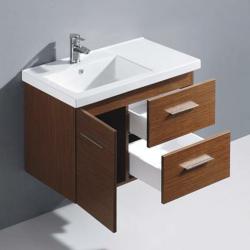 For those in the market for a small bathroom vanity it is important to remember - smart design is much more important to usability than anything a measuring tape can tell.
(PRWEB) August 22, 2012
HomeThangs.com – the Home Improvement Super Store has made their goal to deliver the right product to the consumer, and with that in mind, shopping and home design tips as well as special product selections are being introduced.
Finding a way to make a small bathroom livable is one of the biggest design challenges homeowners will face. Unlike many other rooms, in a small bathroom there isn't a whole lot of room to skimp on furniture or fixtures. To make a small bathroom work, one needs to know exactly where to pare down and do it intelligently. One of the most obvious ways to save space is to get a smaller bathroom vanity. But bathroom vanities that are merely small can present a whole host of their own problems, especially when it comes to storage.
HomeThangs.com introduced a guide to real small bathroom solutions, offering vanities that aren't just built small, but are built smart, too.
1. The number one problem with small bathroom vanities is that no matter how much the physical space it takes up is pared down, some portion of what's left still has to be devoted to the plumbing for the sink. So if the vanity has to be very narrow, something like this 16 Inch Aristo Vanity from Vigo Industries is recommended – with an easily accessible upper cabinet, where space is not wasted, and the stuff can still be stored around the drain pipe, an open shelf adds some extra storage as well.
2. One of the smartest solutions to the plumbing problem with small bathroom vanities is to slightly offset the sink to one side. That means the plumbing is offset, too, leaving one side of the vanity clear for storage where it would ordinarily be blocked off by the drain pipe. The vanity will end up being a little wider, but it'll easily save from having to buy a secondary storage unit, which ultimately opens up more floor space. The 36" Modena bathroom vanity from Virtu USA for example, is well designed, with four fully functioning drawers as well as the typical two-door shelved cabinet.
3. Despite adding a few extra inches to the vanity, drawers – especially ones that start at counter level – will make the access to small items much easier. No more bending leaning stashing or searching in a single poorly organized cabinet. Neat, well sorted drawers are great for all the small stuff so a separate storage cabinet for the bigger items is not necessary. The 32" Stanton vanity from Design Element for example even boosts up the cabinet so it's easier to access and adds a fourth bottom drawer for extra storage.
4. Although large cabinets offer more storage space, they are usually hard to organize, and to lose stuff in if they're deep and don't have enough shelves. That's why wall mounted vanities, like Moderna Trio vanity by Vigo for example, in addition to sleek design, are much more space efficient. They cut down the size of the cabinets and raise them up to waist level, making them easier to access and navigate, while leaving lots of room for much more useful drawer space as well.
5. Wall mounted bathroom vanities offer designs which allow them to be used as dressing tables. For example, 51" Alicia Vanity set by Virtu USA – the sink isn't merely offset to keep the plumbing from interfering with the cabinets, it provides a lot of counter space. While this is probably wider than anything one has in mind for a small bathroom, it's really quite ingenious. Not only does it have room to leave out a toothbrush, toothpaste, and hand soap, it's also a great place to do makeup, hair, or shave. And because it's wall mounted, a stool can be stashed underneath, all that makes a great dressing table.
6. Shelves and cabinets built into the mirror are also a great add-on. While medicine cabinets make great small bathroom solutions, having to open the mirror all the way can be a problem in a tight space. Instead, vanities that are pre-paired with matching mirrors with built in shelves or smaller storage cabinets are recommended. Modern Vanity WTB9012 from Legion Furniture for instance, can act as a built in toothbrush holder, clearing up the counter space and allowing easy access to some of the smaller daily-use toiletries.
For those in the market for a small bathroom vanity it is important to remember - smart design is much more important to usability than anything a measuring tape can tell.
HomeThangs.com is not only a home improvement superstore, it also provides expert design tips and a comprehensive shopping guide, taking the ideas from professional interior designers, and offering tips to the consumers on how to pick the products to best suit their needs.