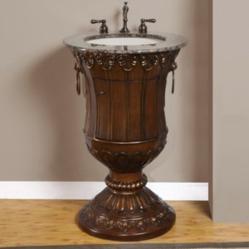 While a smaller bathroom might be considered a bad thing elsewhere, in a powder room, it offers a better opportunity to splurge on the vanity and other bathroom decor without having to worry about it being too practical.
(PRWEB) September 05, 2012
HomeThangs.com – the Home Improvement Super Store has made their goal to deliver the right product to the consumer, with that in mind, shopping and home design tips, as well as special product selections are being introduced.
Small spaces are sometimes the hardest to design. The smaller the room, the more thought required to deal with all the little necessities – like finding the right balance of storage, floor space, and style. But in a powder room, all that goes out the window. Since one doesn't need a place to store a toothbrush or curling iron, a powder room is the perfect place for that beautiful-but-impractical vanity. Designer powder room vanities are an ideal way to really showcase the smaller space.
Homethangs.com introduced a selection of small bathroom vanities that are great for powder rooms, as well as a tip sheet on how to get the most of the smallest space.
1. In a powder room, style is king. While the selection for typical or master bathroom vanities is likely to be limited by the number and size of their drawers, in a powder room one probably doesn't need to stow anything more than maybe a spare roll of toilet paper. So when it comes to powder room vanities, they are allowed to be a little impractical. The Hemet vanity from Avanity for example, got a subtle, sleek style that works well with just about any decor. It also makes the perfect pedestal for a unique vessel sink, which is one of the easiest ways to customize a powder room.
2. In order to give the space a slightly museum-like flair, outright pedestal vanities, like Esprit Vanity from the Wyndham Collection, work extremely well. A nice glass or metal vessel sink and some ambient bathroom lighting would really add to the look. Strategically placed recessed lights or undermount lights will help enhance the museum feel, and one bright spotlight right over the sink will serve not only as task lighting, but to bring out the color and detail in the sink.
3. For a little extra storage space – there are slim, trim powder room vanities that have at least enough space for toilet tissue and hand towels. The HYP-0155-22 by Silkroad, for example, is similar in shape and size, to the Wyndham museum style vanity, but instead of a solid pedestal, this one has access to the interior.
4. Similarly, the Column Style Bathroom Vanity from Silkroad Exclusive is reminiscent of the columns one'd rest a bust on – similarly subtle-but-breathtaking, and begging for a beautiful sink to show off. While the 12″ width and depth would make this beauty at best inadvisable for a heavily trafficked bathroom, the whole interior is open for simple storage, which makes it picture perfect as a powder room vanity. As a bonus, it even has a few shelves inside to make organization a little easier.
5. Powder room vanities can be a statement all to themselves. The Cambridge Vanity by JSG Oceana is a gorgeous, antique-inspired piece that acts as a focal point for a bathroom of just about any size. The simple woodwork is subtle but elegant, and the two finishes make it well suited for either a contemporary or a period inspired bathroom. This particular bathroom vanity is especially well suited to a powder room, with two built in decorative towel hooks that make for an easy seasonal accessory change.
6. Powder rooms are also a great place to try on modern bathroom vanities that are just a little too cutting edge to be practical. While the Cruz vanity from JSG Oceana Glass at least makes an effort at offering storage with the stylish, staggered shelves, putting a roll of TP on one and can of shaving cream on the other sort of ruins the minimal, geometric effect. In a powder room, though, this vanity really shines. Since one won't need the storage, the shelves can be left empty or, they can be used to display simple, beautiful objects that coordinate with one of Oceana's colorful glass vessel sinks.
7. In order to get really extreme, a bold, unusual powder room vanity like the Goblet Style Vanity from Legion Furniture is a way to go. The king of otherwise-impractical vanities, this is a real star piece when used in a powder room. The leaf and vine design is reminiscent of Roman architecture, and combined with the slightly metallic finish (which makes it look even more chalice-like), is a great setup for a rather Bacchic design.
8. In the same vein, the HYP-0141-23 is similar, but both a little bit more ornate and a little more practical. The hidden-ish front panel allows for a modest amount of storage (and a little easier access to plumbing). It also comes with dainty, decorative hand towel hooks built right in. The detailing on this vanity is stunning, and even with a simple white undermount sink, it's a real show stopper. Instead of trying to highlight the sink, though, the room filled with lots of good ambient light will feature the texture of the carvings.
While a smaller bathroom might be considered a bad thing elsewhere, in a powder room, it offers a better opportunity to splurge on the vanity and other bathroom decor without having to worry about it being too practical.
HomeThangs.com is not only a home improvement superstore, it also provides expert design tips and a comprehensive shopping guide, taking the ideas from professional interior designers, and offering tips to the consumers on how to pick the products to best suit their needs.