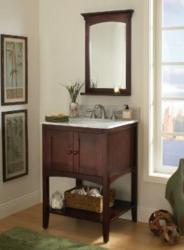 Petite 24"-30" wide vanities from Sagehill Designs are cram-packed with spare storage, and look just as beautiful as vanities twice the size.
(PRWEB) August 18, 2012
HomeThangs.com – the Home Improvement Super Store has made their goal to deliver the right product to the consumer, with that in mind, shopping and home design tips, as well as special product selections are being introduced.
Petite 24"-30" wide vanities from Sagehill Designs are cram-packed with spare storage, and look just as beautiful as vanities twice the size. With Sagehill bathroom vanities there is no need to sacrifice style for storage, no matter how small the space.
HomeThangs.com has introduced a selection of high quality bathroom vanities by Sagehill for smaller spaces, as well as a tip sheet on creating a well organized, storage smart bathroom.
1. Current Setup
For those who think their main problem is the size of the bathroom, it might be time to take a look at the existing vanity and find out what exactly it is that isn't working before trying to find a fix. There are three main problems that can be encountered with a bathroom vanity in a smaller bathroom: size, structure, and storage. If the vanity is too big, it can make the whole space feel cramped and crowded. Reducing the size by even 6 inches across can really open up the bathroom and make the space seem a lot larger, especially if you can stand to lose the storage space. Many Sagehill bathroom vanities, like one from the Modena Vanity collection, are available in 24", 30", and 36" versions, so one can scale up and down to whatever size is comfortable with the specific bathroom.
2. Shape
Choosing between a 30" and a 24" is an important decision for a small bathroom, but the shape and structure of bathroom vanities can be a lot easier to overlook. For example, Parsons vanity by Sagehill is compact, the same size as the Modena vanity, for the matter - but in the same amount of floor space, it offers much less storage space. The little shelf at the bottom is pretty, and the open center can give the room the illusion of being a little bit bigger, so if the bathroom is big enough to tack on some supplemental storage, this is actually a great option.
3. Cabinet Space vs. White Space
Sagehill Bathroom Vanities offer a whole range of alternatives when it comes to balancing white space and storage room. The Allure vanity, for example, is the next step better when it comes to storage, adding a reasonable amount of cabinet space and raising up the bottom shelf a little so one won't have to bend quite so far to use it. Even with the additional storage, though, this vanity has just the right amount of white space to really open up a cramped room.
4. White Space Is Nice, Storage Space Is Better
While all these open vanities are beautiful, and small enough to work in a compact bath, for a truly teeny tiny room it's not size or structure one really needs to worry about, but storage. While white space can help make a room look bigger, if those pretty open shelves will be filled with stuff, it's just going to make the bathroom look cluttered. In this case, a closed, solid construction with multiple doors and drawers, and preferably shelves inside is recommended. Example: Citation Sagehill bathroom vanity keeps the plumbing compact, and has lots of interior space to stash hair gel and TP despite its small footprint. The staggered sides and textured glass doors make the vanity seem a little more open while still allowing to keep all toiletries hidden.
5. A Little Lift Goes A Long Way
While having a big gaping hole in the center of the vanity isn't the best way to maximize storage space in a smaller bathroom, there's just something sweet about a bathroom vanity with feet. For example, Portafino vanity - it's on the simpler side for Sagehill bathroom vanities, but the subtle boost at the bottom gives the otherwise-plain rectangular form a little personality. Paired with some snazzy hardware and a nice granite top, this little guy is a real workhorse, with tons of storage inside a very compact vanity.
6. Types of Storage
There are three kinds of storage in bathroom vanities: doors, drawers, and shelves. Which ones are preferable is a purely personal decision - plain cabinets without additional shelves work well for storing big bottles, like shampoo or cleaner, whereas drawers are more important for cosmetics or hair care items. How much of each one needs should be a determining factor in the style of vanity picked. While the Portafino is superb for general bathroom storage, this Urban Loft Vanity is actually a lot better for hairbrushes, curling irons, makeup bags, and the like.
7. How Small Can One Go?
For the smallest of floor spaces, a wall mounted vanity is worth to consider. A simple wall mounted vanity can not only visually open up the bathroom by adding tons of white space and creating a floating look, but can actually literally add floor space - since it doesn't touch the ground, a wall mounted vanity opens up a lot of space for the feet. For a small bathroom that's a little bigger than a water closet, many wall mounted vanities - like Sagehill Lincoln Street Vanity - can come paired with other wall mounted storage cabinets to add a little more storage space while still leaving the floors open.
HomeThangs.com is not only a home improvement superstore, it also provides expert design tips and a comprehensive shopping guide, taking the ideas from professional interior designers, and offering tips to the consumers on how to pick the products to best suit their needs.