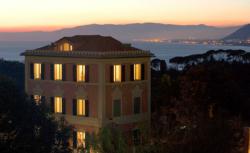 There are a couple of living rooms where people can relax and listen to music or read a book from our big library. It's a place to relax and spend some time living with us.
Berlin, Germany (PRWEB) June 20, 2013
Welcome Beyond is proud to announce that Villa Rosmarino, a small luxury hotel in Liguria, Italy, has joined its collection of truly memorable vacation destinations worldwide. Located on the peninsula of Portofino, in Italy's North-Western coastal region, Villa Rosmarino is not simply a place to stay, but a place to live in for a while.
Owner Marc gave up Milan's big city life for this tranquil retreat. Having been abandoned for 30 years, Villa Rosmarino was restored while retaining its original elements as much as possible. The ground floor of the building used to house a mill producing olive oil. Nowadays, the mill's grind stones decorate parts of the wide-spread garden, a paradisiac place with an infinity swimming pool and sweet-smelling grapefruit and magnolia trees.
The interiors of the small hotel are nothing like you would expect from the outside: vintage furniture from the '50s and '60s join contemporary design pieces. International artists beautify every single room with photographs, paintings or sculptures. Villa Rosmarino also impresses with a sunny breakfast terrace with views on Golfo Paradiso, and a large library inviting to countless hours of quiet relaxation.
Given the excellent local transportation system, guests don't need a car to explore the area. The village is just a 10-minute walk away and offers traditional restaurants (often visited by locals), shops and bars. Guests can go swimming, have a romantic sunset picnic at one of the coast's lonely beaches or explore beautiful historic monuments in the surrounding area. Also worth a visit is the charming city of Genova with its medieval churches, vintage stores and delicious pastry shops.
To find out more about this villa, visit Villa Rosmarino.
For more information about Welcome Beyond and other small boutique hotels, visit Welcome Beyond.