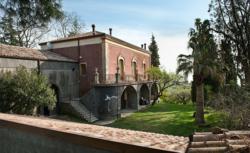 I was looking for a small house in the area and found this place the very first day. I fell in love with it and decided to invest every drop of my energy into it.
Berlin, Germany (PRWEB) September 19, 2012
Welcome Beyond is proud to announce small luxury boutique hotel Monaci delle Terre Nere as the latest addition to its collection of exceptional vacation properties worldwide.
It took Monaci delle Terre Nere's owner Guido Coffa five years to renovate the villa to the highest standard, investing every drop of his energy to create a very personal, relaxing and stylish hotel. The six rooms and suites have been designed with rare thoughtfulness and exquisite taste, combining traditional architecture with contemporary art, modern furnishings and the owner's personal collection of antiques.
Guido is also always at hand to arrange whatever your heart desires: an Italian feast at a small restaurant before the other guests arrive, a private tour of Mount Etna — even on a donkey if you dare — or wine tastings at remarkable wineries for some heavy reds and fruity whites from the region. Or from the farm itself: Monaci delle Terre Nere produces an exceptional red wine, as well as olive oil and fruit jams and juices, all available for you to sample. Staying at this small hotel is a truly memorable experience.
About Welcome Beyond
Welcome Beyond is a carefully curated collection of the most beautiful small boutique hotels and vacation rentals in Italy, Spain, France and further afield in Europe, Asia and the Americas.
The collection focuses on quality, authenticity and character and targets style-conscious travelers who regard shelter as a meaningful part of their vacation experience. Think mirrored cubes scattered around the Norwegian wilderness, airy white villas in Santorini, old-money estates in France and Italy or a medieval watchtower turned into a contemporary retreat — all of them artfully decorated by owners who are passionate about creating a unique and restful experience for their guests.
Welcome Beyond takes away the hassle of browsing through hundreds of sites to find a truly memorable vacation and has been recommended by The New York Times, The Guardian, Elle Magazine, Vogue and many others.
Visit Welcome Beyond for more information about our small boutique hotels and read more about Guido and Monaci delle Terre Nere.