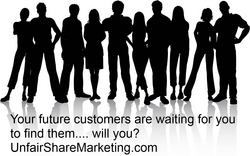 Profit leaks can be costing your business thousands each and every month!
Brunswick, OH (PRWEB) September 27, 2010
To celebrate the launch of our Marketing Consultant business, we are giving away a report packed with three powerful strategies that if implemented will produce thousands of dollars more each month in sales. These strategies address crucial marketing principles that should be used to generate and maintain customers.
It's an unfortunate scene across America today: Businesses are closing their doors and leaving unemployed workers in their wake. The most common reason for these closings is a decline in business revenues. Business owners usually react by cutting their spending.
Brian Stump, owner of Unfair Share Marketing, has a more optimistic outlook on the economy and business today -- "I believe that businesses not only can survive in this economy, but thrive and have the best year ever. In down economies, most businesses usually cut spending and pull back on their marketing efforts to make up for lower revenues. This leaves an opportunity for other businesses to invest in advertising efforts and gain more market share from their competitors who are not aggressively marketing."
Business owners are actually losing money by not investing in marketing or investing it in the wrong kinds of marketing. These areas are called profit leaks. Profit leaks are marketing processes that cost a business money because they are not being handled the optimal way. Profit leaks can be costing your business thousands each and every month!
Fortunately for business owners, Unfair Share Marketing has produced a free report that highlights three profit leaks and gives advice on how to stop the hemorrhaging. You can get your free copy of the report right off their website.
Don't let profit leaks sink your business. Download the free report right now.
Unfair Share Marketing helps small to mid-sized businesses cut their marketing costs while increasing sales. Tactics they are currently employing for their clients include, but are not limited to: mobile marketing, text message marketing, email marketing, social media marketing on Facebook & Twitter, and Website building and optimization.
To learn more about Unfair Share Marketing, a Cleveland Ohio marketing consultant, please visit http://unfairsharemarketing.com or call 440-973-6120
###