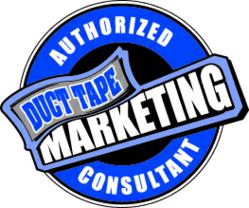 As an Authorized Duct Tape Marketing Consultant, Nicole Croizier of Corner Your Market is exclusively licensed to deliver a set of proven marketing systems to local small businesses.
Langley, British Columbia (PRWEB) July 17, 2012
Nicole Croizier, founder of Corner Your Market, a small business marketing consulting firm in Langley, BC, is one of a growing group of entrepreneurs internationally selected to participate in the Duct Tape Marketing Authorized Consultant program.
Nicole is now the only consultant in the Metro Vancouver/Fraser Valley/mainland BC region with the exclusive rights to implement the Duct Tape Marketing small business marketing system, and distribute the Duct Tape Marketing family of small business marketing products. This includes:

Additionally, Nicole will be available to speak to local associations and business groups on the latest marketing trends and practical solutions using the Duct Tape Marketing methodology.
"The selection process was quite involved," says John Jantsch, award-winning small business expert, best-selling author and creator of the Duct Tape Marketing system. "To ensure the program's success, I limited the scope of the initial offering to business owners who excel in their particular industries but who want to expand their own marketing efforts and share their newfound expertise with others."
"To say that I'm honored to be chosen as a licensee is an understatement," says Nicole. "I realize that the competition for these spots is fierce, so I'm thrilled to be a consultant." A marketing veteran of 15 years, Nicole is a graduate of Simon Fraser University's Communication program, holds an eMarketing certificate and is currently completing programs in social media and web analytics at the University of British Columbia.
Nicole left the corporate marketing world two years ago to found Corner Your Market. "I've always enjoyed marketing, but what I'm really passionate about is helping small business owners take the mystery out of marketing and grow their businesses through a systematic and practical approach," says Nicole. "I found that Duct Tape Marketing shares my core values and beliefs. Partnering with the organization allows me to access the latest small marketing tools and programs, and also share with small business owners not just my own experience, but the expertise of an entire network of more than 60 consultants."
About Corner Your Market
Corner Your Market is a full-service small business marketing consulting firm focused on helping small business owners install proven and practical marketing systems. More than just a marketing plan or a specific tactic, we help small businesses plan, build, activate and sustain their marketing - and consider every way their customers buy. Founder of Corner Your Market, Nicole Croizier, is an Authorized Duct Tape Consultant and exclusively licensed to deliver the Duct Tape Marketing suite of proven small business marketing consulting programs, including The Marketing Catalyst, Social Media Pro, and Referral Engine Pro. Corner Your Market can provide the senior-level marketing guidance and expertise small business owners need, help them set up their marketing systems, manage their marketing on an ongoing basis, and train their employees on core concepts. Additionally, Nicole is available to speak on current marketing trends to local associations and business groups. Corner Your Market services the Metro Vancouver and Fraser Valley regions, including Langley, White Rock, Surrey and Abbotsford.For more information, visit http://www.corneryourmarket.ca. and download our free eBook, The 7 Steps to Small Business Marketing Success.
About Duct Tape Marketing
Duct Tape Marketing is a unique turnkey small business marketing system created by award-winning small business marketing expert and author John Jantsch. Today, the Duct Tape Marketing System is used by thousands of small businesses worldwide and delivered through a network of 60 authorized consultants. So when you engage Corner Your Market you don't just get a marketing team with a combined 20 years of experience, but access to an entire network of small business and marketing experts. Visit the Duct Tape Marketing Blog, a Forbes favorite for small business, at http://www.ducttapemarketing.com.