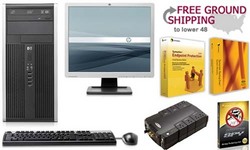 It's a common misconception that when you buy a computer, any computer, and power it on, that it will be instantly usable and productive
Poway, CA (Vocus) October 27, 2010
Now in the Main Showroom at jackrabbit.com, small businesses nationwide can purchase or lease any of three new complete, ready-to-use professional-grade small business PC desktop packages. They are designed specifically for reliable, long-term, day-to-day use by employees of small businesses, such as legal and accounting firms, insurance agencies, real estate agents, small manufacturing and service companies, home offices, and more. They are completely configured and optimized to save businesses time and money by reducing support and maintenance costs over the life of the system and to increase worker productivity by providing a stable user experience.
The three centerpiece desktop computers featured in these packages were selected because they are especially suitable for many common office tasks, including word processing, e-mail, bookkeeping, document publishing, and more. The HP Compaq 6000 Pro is an upgradeable microtower PC, perfect for most office settings; the Lenovo ThinkCentre M58p is extremely compact and is well-suited for situations where desk space is limited; and the Lenovo ThinkCentre M90z is a very compact business all-in-one PC that sports an integrated full HD 23'' LCD video screen.
The system designers at Jackrabbit Microware, the 28-year-old San Diego, California company behind jackrabbit.com, have hand-picked a short list of essential, business-grade hardware and software products (no "crapware") to include with each computer package. These products work together to keep the computer running smoothly and efficiently and also protect it from physical threats, including power surges and brownouts, and cyber threats, such as viruses and hijacking. The included data backup software from Symantec™ allows for complete system restoration, should the need arise. Everything is professionally configured and optimized and then personalized for the specific user to create a complete, secure, reliable, stable desktop computer package that's ready-to-use upon receipt.
"It's a common misconception that when you buy a computer, any computer, and power it on, that it will be instantly usable and productive," said Stephen Lesberg, President and Senior Consultant at Jackrabbit Microware. "A factory out-of-the-box install is simply not appropriate for a business where reliability, stability, and security are so important. We combine our know-how with quality business-grade hardware and software products to present a fully configured and optimized package that meets those essential needs."
To see these desktop computer packages, visit http://shop.jackrabbit.com/small-business-pc.aspx.
About jackrabbit.com
Jackrabbit.com is a monthly on-line publication from Jackrabbit Microware, a San Diego, California-based technology consulting and integration company founded in 1982. The website caters to the essential technology needs of office-based and home-based businesses with 1 to 50 employees nationwide. It provides knowledge and insight to help them make informed buying decisions, and it offers them an array of complete, high-quality, fully configured, optimized, personalized, ready-to-use technology solutions for sale or lease.
For more information, please visit http://jackrabbit.com or call toll free at 1.800.444.9923.
###