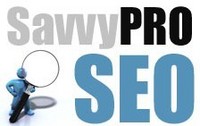 Our clients can access their virtual workrooms online to monitor milestone completion and due dates, if they wish.
Minneapolis, MN (PRWEB) July 28, 2009
As the number of websites continues to increase, search engine optimization ("SEO") is becoming more important, especially to small businesses. SavvyPRO SEO has created a small business SEO program that offers affordable SEO services to its clients.
Minneapolis-based SavvyPRO SEO is a small business SEO firm which specializes in helping startups and small to medium-sized companies dramatically increase their online presence. SavvyPRO SEO offers an all-inclusive, affordable solution which drives traffic to its clients' websites, gives them top-10 search engine rankings, and promotes their brand recognition.
"So many of today's small businesses are blooming from laptops and home offices. Because of the high degree of competitiveness on the web, good SEO is indispensable," says Sean Rosensteel, founder of SavvyPRO SEO. Although some small businesses may understand the basics of SEO, getting results requires a consistent, multi-faceted approach.
SavvyPRO SEO gets those results through a custom-designed, comprehensive small business SEO program. Their three-step approach includes traditional SEO tactics--such as keyword optimization--plus new techniques, such as social media integration and authority site content.
"There's more to SEO than simply suggesting 'better' keywords or polishing meta tags," says Rosensteel. "While keyword analysis and on-page SEO are important, they represent only one-third of what we do for our clients. We use a 3-step approach that looks not only at those two key elements, but which also provides relevant back-links through informative content creation which greatly help our clients' rankings. We perform optimization and SEO copy writing for each individual page, and we also offer social media creation and authority site content."
"It's important to leverage a strategic combination of available online marketing outlets," says Rosensteel. "If you want to promote your business online you absolutely have to drive as many unique, qualified visitors to your site as possible every day. This means that you can't rely exclusively on traditional SEO, such as keyword analysis and on-page SEO efforts."
Because Rosensteel is an entrepreneur, he understands the needs of other small business owners. That's why SavvyPRO SEO works individually with its clients to develop an affordable small business SEO program which will address their unique needs. That's also why SavvyPRO SEO runs a completely transparent operation. "We invite our clients to look 'behind the scenes,'" says Rosensteel. "Our clients can access their virtual workrooms online to monitor milestone completion and due dates, if they wish."
Rosensteel's firm has already won several high-profile clients--and rave reviews.
Business owners are encouraged to visit SavvyPRO SEO online to learn more about their affordable SEO services, and to request a free analysis of their own websites.
###