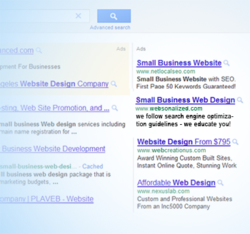 The advertiser is not tapping the user, but rather, the user chooses to follow the advertisers link to get more information. This dynamic puts the advertiser in a better position
Los Angeles, CA (PRWEB) June 30, 2011
Small Business Web Design Company, websonalized.com, announced the giving away of $100 credits to advertise with Google to anyone who is not a current member of Google's AdWords program. Veronica Cisneros, lead web developer, emphasized this is an opportunity for small businesses with a small marketing budget to test this advertising channel.
The $100 credit can be used when opening a new AdWords account to place ads in front of google users that search for targeted keywords or phrases. For example, a dentist office could advertise orthodontics treatments that would appear in Google's search results page when an internet user searches for "types of braces."
Veronica indicated that small businesses should use this credit to test search engine advertising. "Search engine advertising is perhaps the most effective form of advertising. When a small business takes into account that its message will be broadcasted only to people who are actively looking for its products or services the costs of getting a new client are clearly reduced. The advertiser is not tapping the user, but rather, the user chooses to follow the advertisers link to get more information. This dynamic puts the advertiser in a better position. More convenient yet, is that although the ad is displayed for relevant searches, the advertiser is only charged when a user actually clicks the ad; this is called pay per click."
Advertising with Google let's small businesses do granular targeting unlike any other mainstream form of advertising. Aside from the silver-plate of targeted display, a business can limit times and geographical locations for the display of its ad. For example, a general contractor that offers local services can narrow the display of the ad to internet users who search for "general contractors" within the city he or she serves. For the small business who has a small marketing budget this is the most effective way to market itself, because the probability that the ad will reach the desired audience is increased by the very nature of search engines.
The company's strong believe in search engine advertising stems from the experiences of its associates as consumers. "Yesterday I was searching for 'carpet cleaning,' and the first listing in the search results page was an ad with a headline that included a price within my budget. The text below the headline indicated my city was being served by this company. I believe the specificity of this information influenced me to pick this carpet cleaner" Veronica said. What this story implies is that businesses can influence the type of traffic they attract to their website or landing pages.
Generally, the specifics of the service or product mentioned in the ad's headline will determine what type of prospects follow through the advertiser's website. Internet users who are turned off by expensive services are likely to avoid clicking on ads that name an expensive product, and internet users who are looking for very specific products or services are likely to click on ads that mention the features that characterize the item. Still, the ad is presented as an alternative to internet users who are searching for specific information. If the business is clear about what it wants to achieve, this tool enables it to present its solutions to latent consumers. The web design, landing page design, website's content and/or customer service are left to do the rest.
This web design company is a member of the Engage program. To get a $100 credit to advertise with Google simply fill up this form: http://websonalized.com/contact-us-site-administration.html and a credit code will be emailed back. The credit code is to be used as the advertiser opens an AdWords account with Google.
###