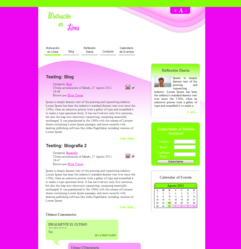 When Misses Torres told me the colors and style she wanted for her website, I went crossed eye... By listening to her, we understood what she is trying to achieve... she was right about the colors
(PRWEB) September 01, 2011
Small business web design company websonalized.com announced the launch of a website designed and developed by the company. Elvia Torres, personal coach and author of the website is launching her new business motivacionenlinea.com. According to the web design company, the most important aspects of this project were to streamline basic online operations while keeping costs down, and to create a design that candidly portrays Misses Torres personality and vision.
The new motivational website was equipped with a back end dashboard that facilitates creation and distribution of newsletters and blog entries, live response to chat inquiries, a comments system, and an analytics interface for tracking detailed website and newsletters activity. The web design company was able to integrate all of these utilities at a low cost by using open source code. For example, the newsletter application was developed by Acymailing; the analytics dashboard by Piwik, and the chatting solution by mibew.org.
Misses Torres is scheduled to go online for a live video and chatting session tomorrow, Thursday, September 1st. 7PM PST. Her livestream "Daily Insights" ("Reflexión Diaria" in Spanish) is broadcasted right out of her website. For this live video and chat application the web design company used livestream.com free services. The live stream video company provides a code snippet that easily embeds the video and chat session into a webpage.
The importance of the holistic approach taken by the Los Angeles small business web design company stems from the financial fragility and time constraints faced by small businesses. Online marketing is a time consuming activity, and paying monthly fees for services that take time to yield a return can distract the business owner from his core activity. In most instances, the survival of the small business depends on the owner's inspiration and skill to persevere.
Small business web design company websonalized.com hopes to empower and help small businesses by centralizing tools that require no monthly fee or subscriptions for basic online marketing tasks, newsletters, live chat, analytics, etc. Web designer Veronica Cisneros expressed that listening to clients is a cliché that is seldom practiced. Yet, her company's priority is to help clients materialize their vision. "When Misses Torres told me the colors and style she wanted for her website, I went crossed eye. I was worried about how my skills would be judge from the project. However, we are here to serve our clients, not ourselves. By listening to her, we understood what she is trying to achieve. Now, I am in love with her website; she was right about the colors. I believe motivacionenlinea.com is ready to connect with its audience" Veronica said.
###