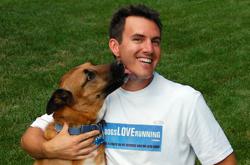 We're a small business success story and celebrate National Small Business Week.
Lisle, Illinois (PRWEB) May 24, 2012
Dogs Love Running! is a small business success story. What started out as a one-man show is now a pet franchise opportunity available across the nation. With National Small Business Week being May 20-26, the company founder, John Reh, shares how his company got its start with help from the Small Business Administration.
"We were looking for input on how to fine-tune our ideas," says Reh. "The US Small Business Administration has free business counseling through their SCORE program so we started there first."
John went on to meet about 4 different counselors over the course of a few weeks. Each time, ideas were hammered out in finer and finer detail. The end result is Dogs Love Running!, a professional pet care service that does not only traditional "dog walking", but they'll also run with dogs, too. Aside from the dog running/walking services, they also do pet sitting and can create customized private pet boarding and daycare solutions.
He says that "when I initially went in and told them the revenue I wanted to produce via a dog walking and pet sitting company, they basically just laughed. I was a little disappointed with that response, of course. But, the upside was that it made me think in a completely different way about how to get to the numbers I had in mind. I wasn't giving up on the idea. I just had to think of a better way to make it happen."
Reh started his company as a one-person show. He did everything from designing the website to making pet visits to recruiting team members. After a couple years, he had a large staff and was looking for ways to expand.
"Thinking back to my SCORE counseling sessions and considering the different methods of expansion, we decided on franchising. As a franchisor, expanding in that way suited our business model as well as what we wanted to do in terms of our skills and abilities."
"We love helping people," says John. "As a franchisor, it's our business to be professional pet business coaches. But if someone already has a business on their own or is looking to start one on a very small scale and would't need everything our franchise can offer them, then we're still happy to help share what we know in hopes that our experience can be of benefit in helping them run a safer and more successful business. And, if a person wanted to skip the part about figuring it out for themselves and just wants to get going in the right direction on day one, joining us as a franchisee is always an option."
The company founder is very appreciative of the SBA and the counseling sessions they took part in. "We received help and coaching from the SBA and now it's our business to help and coach our franchisees. We love what we do and thank the SBA and its counselors for helping us."
About: Dogs Love Running! helps pets live longer and behave better through exercise. They offer private dog walking/running, pet sitting, and related services at the customer's home. They're also a low-cost, home-based franchise with available markets across the nation.