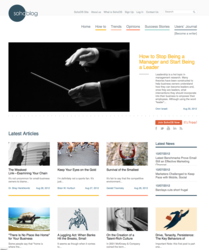 San Francisco, CA (PRWEB) September 05, 2012
SohoOS, an online business-management platform for small-office / home-office (SOHO) businesses, today announced that it is seeking new writers for the SohoBlog, a popular business-advice blog. Authors will see their ideas exposed to thousands of readers and shared widely across social networks.
"You know all about the challenges and rewards of running a small business. Here's your chance to share that knowledge with others and get your name in front of thousands of likeminded entrepreneurs and SMB owners," invites the team behind the business-tips blog.
The SohoBlog shares practical advice, hot trends, current events, real-life success stories, and more with thousands of daily readers. The blog, like the company behind it, is dedicated to helping freelancers, contractors, entrepreneurs, and small-business owners navigate the often-rough waters of the global business market.
The small-business blog invites potential authors to check out sohoos.com/blog to get a sense of the blog's scope and style. Interested writers should send an email containing the following information:

Brief summary of proposed blog topic related to small business
Name
Contact information
Brief bio
Author photo
Website address
SohoOS Business Directory link
To submit a blog topic, please email the above information to authors(at)sohoos(dot)com. For more information about SohoOS, please visit sohoos.com.
About SohoOS
SohoOS (http://www.sohoos.com) is a free online business-management platform that empowers micro-businesses and freelancers worldwide with the management tools they need to flourish. With a growth rate of over one thousand small businesses joining daily, SohoOS, available from any browser or Web-enabled mobile device, helps growing businesses compete by offering a powerful suite of Web-based tools for their operations. SohoOS's ultimate goal is to establish a new global micro-economy where small and micro-businesses interact and collaborate with each other to efficiently grow their business. Privately funded by Mangrove Capital Partners and Morgenthaler Ventures, SohoOS is based in San Francisco.
Learn more about SohoOS at the company's website: http://www.sohoos.com.