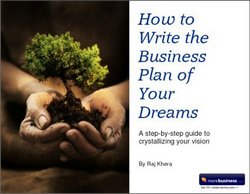 How to Write the Business Plan of Your Dreams
Rockville, MD (PRWEB) August 20, 2008
Small business owners who are looking to get the most out of their business plan instead of letting it collect dust have a free resource they can download. Titled "How to Write the Business Plan of Your Dreams," this small business eBook is designed to help writers focus their vision to get what they want in a concise and action-oriented manner.
To download "How to Write the Business Plan of Your Dreams" eBook, visit the MoreBusiness.com website at: http://www.morebusiness.com/free-business-plan-book.
"It is designed as a start guide for anybody wanting to get their enterprise off on the right foot," comments author Raj Khera. Inside, he shares stories and exercises readers can perform to help brainstorm crucial elements needed for their business plan.
Khera writes from personal entrepreneurial experience and lessons. He learned business planning successes in his years of starting and building up five startup companies, including the largest business-to-government web portal which he sold to a publicly traded firm.
Readers will be taken to the year 1954, where only a mere 3% of a high school's graduating class had written goals. They will be inspired to likewise write their goals, as in a follow-up study, this small group made over 95% of the classes' money. Throughout the book they will glean lessons from other facts and stories like this and learn about the basic elements of a polished plan.
"Today's business plans are not the 250-page behemoths of decades past," Khera says. "Rather, they are more like roadmaps [that] show you how to get to where you want to go."
This eBook is available for download at MoreBusiness.com. The website itself offers other valuable resources for those wishing to start and grow their own business. Visitors can also sign up for its free bimonthly small business newsletter which provides news and advice on management, marketing, strategic goal planning and more.
About MoreBusiness.com:
MoreBusiness.com is an award-winning website filled with sample business plans, marketing plans, templates, sample contracts and business agreements to help entrepreneurs start and grow a small business. MoreBusiness.com is part of a series of sites run by Khera Communications, which includes email marketing service, MailerMailer, and online collaboration tool, DiscussThis.
###