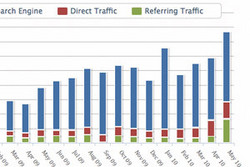 Miami Beach, FL (Vocus) November 8, 2010
Can small business utilizes social median and internet marketing effectively enough to see a quick ROI? Karma Snack knows it can be done. Despite the relative youth of the industry in general, Social Media and the related field of Internet Advertising are fairly well developed areas of expertise. It can be mind-bogglingly confusing for the uninitiated to get started with a full-fledged Internet Marketing campaign. That's why using a company specializing in Web Marketing Services is so important when it comes to making an instant impact with your business online.
More and more people find products and services online, and if you're not easy to find on the web, you might as well be invisible. Web Marketing gives companies and entrepreneurs the power to quickly and efficiently kick start their business at a minimal cost. Karma Snack is introducing a new Business SEO package, designed to kick start small businesses' online presence, and generate results quicker than stand-alone SEO companies can provide.
For many enterprises, the hardest part of becoming successful is letting people know who you are, where you're at and what you can do for them. The Internet is both a blessing and a curse in that regard. It's never been less expensive to put out out fresh marketing content. But now that everyone can afford to put up their own web page and advertise digitally, it has become increasingly difficult to be heard above all the static and noise.
Standing apart from the crowd is the name of the game. When you're competing against the rest of the world for clients and market share, you need to be innovative when it comes to getting recognized.
Karma Snack focuses specifically on Affiliate Marketing Management, Pay Per Click Management, and general Internet advertising. They have in-house experts in each department that have already helped many businesses large and small achieve serious results that translate into substantially increased revenue immediately. They can also handle website design and integration no matter what level you operate at.
Many marketing companies claim to boost revenue through increased Internet traffic, but fail to consistently deliver results. Karma Snack has a proven track record of helping businesses improve their online profile organically, giving them a significant advantage in terms of exposure to potential customers and clients. It's called Business SEO, and Karma Snack brings to the table a wealth of knowledge and expertise, which help clients achieve greater ROI online, increase marketing efficiency, and streamline the sales process.
There are a million ways to get the attention of your target audience nowadays. Karma Snack can guide you through the maze of complexity that is the modern Social Media ecosystem. They can assist your business in achieving a lasting online presence in your key markets, resulting in higher organic Search Engine rankings. That means more unique visitors to your main web page. But the manner in which traffic flows on the Internet is always changing, and there's a good chance Google won't always be king. More and more, people find what they're looking for through portals like Facebook and Twitter. Karma Snack realizes this changing dynamic and is constantly developing new strategies for online marketing success.
As a Marketing Agency with a combined 25 years of experience in promoting up and coming businesses and established powerhouses, Karma Snack can handcraft a unique and targeted campaign no matter what your needs. To see what you can accomplish with Internet advertising and Social Media on the web today, head over to Karma Snack for more details. Whether you need Search Engine Optimization services, Business SEO, Social Media campaign advice or just general, run of the mill Internet Marketing help, Karma Snack is the proven choice for businesses that are serious about being successful today.
###