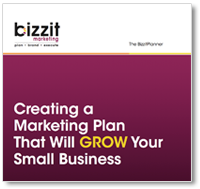 Quick and simple steps that will put a small business ahead of of its competition.
Burlington, CT (PRWEB) October 26, 2011
Bizzit Marketing is proud to announce its new BizzitPlanner is now available as a free download. The result of years of delivering small business marketing services and examining leading industry strategies, the BizzitPlanner is a 64-page e-book designed to help small businesses craft a marketing plan that will truly grow their business.
Bizzit Marketing knows that a strong small business marketing plan is the foundation for success. It takes more than just a new logo design, a great location or thousands of Twitter followers. The small business that has a consistent message, targets the right customers and consistently makes their products and services exceptional will grow intelligently and organically.
The BizzitPlanner gives jargon-free, real-world marketing solutions to any small business – from restaurants to lawyers to dog walkers. The BizzitPlanner is available as a PDF and online, perfect for on-the-go reading on a laptop or smartphone. It's not another small business marketing textbook; it's a simple and concise set of tools to help small business owners understand the marketing actions they must take for a successful future.
Business owners are active participants in the BizzitPlanner, completing exercises to describe their perfect customers, detail their business vision and ultimately craft their unique marketing message. They learn the quick and simple steps that will put a small business ahead of of its competition.
Visit Bizzit Marketing's website to learn more about the BizzitPlanner and download the free PDF.
About Bizzit Marketing
Bizzit Marketing is an advertising and internet marketing company, providing the full resources of an integrated agency to small businesses of any size. Bizzit Marketing offers small business marketing services including logo design, graphic design, social-media-marketing, small business SEO, new website development, website redesign and WordPress development. Its team works together with small business owners in all aspects of their marketing, from plan creation and design to execution and management.
For more information visit http://www.bizzitmarketing.com.
# # #