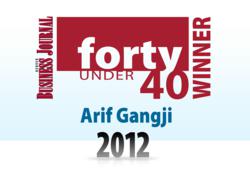 Denver, CO (PRWEB) April 26, 2012
Arif Gangji, president and founder of Neon Rain Interactive, has been selected from one of the toughest fields over its 16 years in existence to be named among the "Forty under 40" by the Denver Business Journal.
Every year, the Denver Business Journal names its select list of up-and-coming business leaders on the basis of their business leadership, recognition of accomplishments and community involvement. This year's field included 471 nominees.
Gangji responded to the award, "I am very happy to accept this award on behalf of my company. It is as much a sign of future promise as of past achievement, and reflects my sense that the best years of our company are yet to come. I am especially excited about increasing our offering of SEO [Search Engine Optimization] for small businesses. Most of our new clients are referrals and that means a lot more to us than awards."
This is not the first honor given to Neon Rain Interactive by the Denver Business Journal, which has ranked the company in the Top 10 Web Development firms for the past 5 years. Neon Rain offers a number of web development services for businesses of all sizes, including Search Engine Optimization(SEO), which helps customers increase ROI for websites by bringing targeted traffic that increases conversions.
This year's winners were honored at a public event at the Hyatt Regency Convention Center Hotel on Thursday, March 15 with over 600 attendees.
About Neon Rain Interactive
Neon Rain Interactive was founded in 2002 by Arif Gangji. The company provides fully scalable business website solutions for businesses of all sizes, from one person operations to multibillion dollar organizations. Product offerings include business website design, software development, mobile apps, and Search Engine Optimization (SEO). For the past 5 years it has been ranked in the Top 10 Web Development firms by the Denver Business Journal.