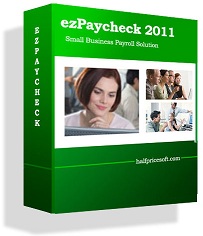 We hope ezPaycheck payroll software can help business owners spend less time understanding what tax rate they should pay and more time ensuring their business succeeds.
Atlanta, GA (PRWEB) November 16, 2011
The holiday season is just around the corner. Be productive and focus on holiday sales is important for any retailers. Small businesses looking for ways to streamline payroll processing can turn to ezPaycheck payroll software from Halfpricesoft.com (http://www.halfpricesoft.com). The new year 2011 edition comes with so intuitive and user-friendly interface that first time users without an accounting background can start doing payroll immediately after installation.
The newly upgraded version of the already popular product was updated according to the suggestions from customers including:

New form-level Help buttons
Faster, easier Year-to-Date key function
Updated "Generating New Paycheck" screens
Improved data back-up and restore features
Halfpricesoft.com also announced the Year 2011 + 2012 combo package. With the new combo offer, business owners can purchase ezPaycheck today to automate their payroll process immediately for faster end-of-the-year payroll reporting and get access to 2012 updates for just $1 more.
"Now is the best time for small businesses to automate their payroll processes with ezPaycheck Payroll Software. During this coming holiday season, how to increase business productivity is critical for any company," said Dr. Ge, founder of Halfpricesoft.com. "We hope ezPaycheck payroll software can help business owners spend less time understanding what tax rate they should pay and more time ensuring their business succeeds."
Founded in 2003, Halfpricesoft.com has established itself as a leader in meeting the software needs of small businesses in US. ezPaycheck software is designed to automate paycheck processes to reduce the time spent on running payroll. The software's graphic interface leads users step-by-step through setting up employee information, importing data, calculating payroll - including calculation of federal, state and local taxes; deductions for Medicare, insurance and 401(k) plans; and printing paychecks. New user can download and try this software for free with no obligation and no cost at http://www.halfpricesoft.com/payroll_software_download.asp
By purchasing the 2011 + 2012 combo package for ezPaycheck Payroll Software, small businesses can start taking advantage of these great features today:
Intuitive and user-friendly interface — Even users without an accounting or computer background can start running payroll as soon as installation is complete
Updated tax tables and tax rates for all 50 states, Washington D.C., and federal taxes
Print check-in-middle, check-on-bottom or check-on-top formats for check printing
Print Form 940 (Employer Annual Federal Unemployment Tax Return)
Print Form 941 (Employer Quarterly Federal Tax Return)
Mask employee Social Security Numbers on check stubs
Flexible controls for tax deductions and tax set-up ideal for churches and non-profit organizations
Robust payroll report and export options
Auto-fill data feature speeds up payroll tasks by remembering dates and other data from previous payroll periods and automatically updating them
Employee list export feature simplifies using ezPaycheck data with other software, such as ezW2 from Halfpricesoft.com
Designed with small business users' need in mind, ezPaycheck is easy-to-use and affordable for any business. To start the free test drive, visit http://www.halfpricesoft.com/index.asp
About Halfpricesoft.com and ezPaycheck payroll software
EzPaycheck is developed and distributed by Halfpricesoft.com, a Louisville, Ky.-based firm committed to creating affordable and easy-to-use financial software for small businesses. Additional small-business payroll software titles available from Halfpricesoft.com include w2 1099 software, check printing software, employee time tracking software and barcode printing software.
# # #