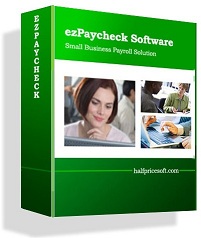 ezPaycheck payroll software makes payroll fast and easy for these businesses.
Los Angeles, CA (PRWEB) December 22, 2011
The new 2012 edition of ezPaycheck payroll software for small businesses is now available. Software developer Halfpricesoft.com (http://www.halfpricesoft.com) announced the release of ezPaycheck 2012 today. The new edition includes the Year 2012 federal and state tax tables, the updated W2 and W3 forms, and the improved user interface for 2012.
Priced to be affordable for any size business, ezPaycheck 2012 is available for just $89 for new users or $59 for current customers of ezPaycheck 2011. For a limited time, a combo pack that includes both the 2011 and 2012 editions is available for just $90, so new customers can take advantage of ezPaycheck's time-saving features for year-end payroll activities and be prepared for automating payroll in 2012.
"Nearly 6 million small businesses employ workers and run payroll, but 90 percent of these businesses have fewer than 20 people on staff and don't have an accountant," said Halfpricesoft.com founder Dr. Ge. "Additionally, the IRS reports that about 40% of small businesses in the U.S. pay an average of $845 per in in payroll penalties for late or inaccurate tax filings. ezPaycheck payroll software makes payroll fast and easy for these businesses, while greatly reducing expensive errors, to save them hundreds or even thousands of dollars."
ezPaycheck payroll system is loaded with intelligent, intuitive features, but not burdened by complicated suites of expensive applications small businesses will never use or need. ezPaycheck's graphical interface and payroll features are so intuitive that users can start automating payroll processes within minutes of installation, even if they don't have much computer or accounting experience. Additionally, customers can download ezPaycheck for free and try it without cost or obligation for 30 days. The free software download, which includes a sample database for easy test-driving, is available online at: http://www.halfpricesoft.com/payroll_software_download.asp.
The new edition of ezPaycheck small business payroll software was designed with direct input and guidance from those who use it "in the trenches" every day, including:

Prints payroll checks on blank computer checks or preprinted checks.
Automatically calculates Federal Withholding Tax, Social Security, Medicare Tax and Employer Unemployment Taxes.
-Includes built-in tax tables for all 50 states and the District of Columbia.

support tax forms 940, 941, W-2 and W-3
Creates and maintains payrolls for multiple companies, and does it simultaneously.
Supports Daily, Weekly, Biweekly, Semi-monthly and Monthly payroll periods.
Supports Report Functions, Print Functions, and Pay Stub Functions.
30 day free trial. No registration required and absolutely no obligation.
Amid recession, doing first thing first is important for any business. To start a free test drive of ezPaycheck payroll software, please visit: http://www.halfpricesoft.com/index.asp
About Halfpricesoft.com and ezPaycheck payroll software
EzPaycheck is developed and distributed by Halfpricesoft.com, a Louisville, Ky.-based firm committed to creating affordable and easy-to-use financial software for small businesses. Additional small-business payroll software titles available from Halfpricesoft.com include w2 software, 1099 software, check printing software, employee time tracking software and barcode printing software.
###