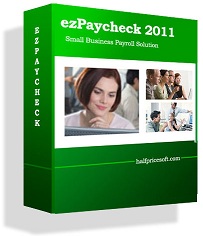 Part of our business model is making sure our customers can operate our payroll software, check writing software or W2 & 1099 tax software with minimal learning curve and frustration.
Los Angeles, CA (PRWEB) November 09, 2011
Small business payroll tax software developer Halfpricesoft.com (http://www.halfpricesoft.com) has launched a new web-based customer support system to help customers get better answers faster. Customers now have several options for getting answers to their questions and solutions to their problems, including live chat, trackable support tickets, and an online help forum.
"Part of our business model is making sure our customers can operate our payroll software, check writing software or W2 & 1099 tax software with minimal learning curve and frustration," said Halfpricesoft.com founder Dr. Ge. "This new support system helps facilitate that goal by giving customers a variety of ways to get answers faster."
Based in Louisville, Ky., Halfpricesoft.com develops payroll tax software applications for small- and medium-sized businesses that are easy to use and require very little learning time even for users who don't have a background in accounting or programming.
Customers can access the new support system by going online to http://www.halfpricesoft.com and clicking on "SUPPORT" in the blue navigation menu at the top right of the web page or in the gray menu on the left. Once on the Halfpricesoft.com Support page, customers have the following options:

Start a trackable support ticket - Customers simply supply their name, e-mail address and a description of their problem in an online form. Service reps reply to the customer via e-mail, usually within 24 hours. Meanwhile, customers receive a ticket number, which they can use to track their support ticket and be assured that Halfpricesoft.com is looking into their problem.
Contact customer support via e-mail - This option works similar to the support ticket, but customers send in e-mail to customer support instead of completing the online form.
FAQ - Most customer questions have been asked before. In the FAQ library, customers can get quick answers to the most common questions about Halfpricesoft.com products.
LiveChat - Customers who need immediate help with a problem, and can't find an answer in the FAQ library, can request a live chat session with a customer service rep. This support option is available on any page of the Halfpricesoft.com web site by clicking on the LIVE CHAT link directly below the blue banner at the top of every page.
COMING SOON: Support forum
Custom-designed Support System Meets a Variety of Customer Needs
Halfpricesoft.com's new support system was developed by the company's own programmers in order to give customers a variety of options for getting help.
The 2011 & 2012 tax season is coming. Halfpricesoft.com welcomes users to download and try the payroll software, check writing software, time tracking software and W2 & 1099 software for free, with no obligation and no risk.
Realizing that many businesses and organizations are still suffering in an economy that continues to lag, Halfpricesoft.com also announces the new special promotion on ezPaycheck 2011 and 2012 bundle version. Small business owners who purchase ezPaycheck 2011 from halfpricesoft.com for the low price of $89 this fall can get the 2012 edition of ezPaycheck for just $1 more.
To start the free test drive, visit http://www.halfpricesoft.com
About Halfpricesoft.com
Developed and distributed by Halfpricesoft.com, based in Louisville, Ky., ezPaycheck Payroll Software is one of many affordable and easy to use financial software titles developed especially for small businesses. Halfpricesoft.com software titles also include ezW2, ezCheckPrinting, ezCheckPersonal, ezBarcodePrinting and ezTimeSheet.
###