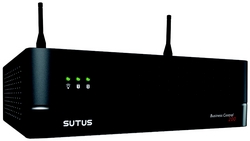 Burnaby, BC (PRWEB) February 25, 2009
Vancouver, B.C. -- Sutus Inc., the company behind the Sutus Business Central™, a unique all-in-one device that combines all the telephony, data and networking features required to run a modern-day office, today announced a range of new features for the Business Central™. The firmware update continues to focus on simplifying the management of phone system options that, for almost any other business phone system, requires onsite support by a phone or IT support technician. The new release adds features such as support for overhead paging, phone status monitoring (Busy Lamp Field or BLF), support for inexpensive analog phones and 3rd party ATA devices.
At the heart of the new release is a unique tool for setting up telephone handsets; users no longer have to use the menu's and options on the handset which are typically hard to navigate and complicated to understand and can instead use the same point and click interface that comes with Business Central.
The Sutus Business Central™ has been developed specifically for businesses of up to 25 employees and comprises a wide array of advanced telephony, data and networking functions. It includes a business-class phone system, file server, email server, router, firewall, wireless access point, VPN remote access server, and automated backups. It has the ability to simultaneously support both standard phone line and VoIP connections and comes with an array of business productivity features.
The Business Central also performs the tasks of a gateway or edge device, enabling both Sutus and its business partners to seamlessly deliver a wide range of turnkey hosted services, such as remote device management, VoIP, back-up and disaster recovery.
Shawn Chute, EVP of Sutus, said, "Just about every small businesses wants greater control over their phone and IT infrastructure. Having to call in tech support every time you want to make a change to your phone system or add a new workgroup to your network is neither cost effective nor convenient, which is one of the reasons the Business Central is gaining such traction in the market. This firmware update is the latest step in our continued quest of streamlining and simplifying every aspect of IT and Telephony for small businesses."
Sometimes known as an 'office-in-a-box', the Business Central is a Multi-service Business Gateway. InStat qualifies Multi-service Business Gateways (MSBG) as hardware which combines phone systems with other mission-critical components like routers and servers, and has estimated the market at US$615 million in 2007 and projected to rocket to US$2.6 billion by 2010.
About Sutus
Sutus (http://www.sutus.com) provides small businesses with an enterprise quality all-in-one solution that delivers office network and telephone infrastructure that is affordable, robust and extremely flexible. The Sutus Business Central™ is the winner of INTERNET TELEPHONY magazine's 2007 product of the year award and IT Expo's 'Best Newcomer' award. It is designed specifically for offices with up to 25 users providing all core IT infrastructure as well as on-demand turnkey VoIP and other advanced phone and data services through Sutus business partners. The Business Central significantly improves a reseller's ability to easily service small business customers with locations of 25 users or less.
###