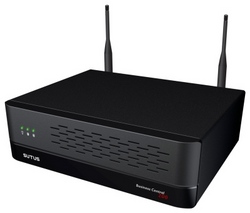 Vancouver, BC (PRWEB) December 4, 2007
Sutus Inc., a leading manufacturer of converged Phone, Data and Networking solutions, today announced that ThinkTel's VOIP services are now available with Sutus Business Central™ - a unique appliance that combines advanced data and networking features with a business-class phone system, designed specifically for Small Business.
By completing interoperability testing with ThinkTel, Sutus has greatly increased the range of VOIP services available to its rapidly growing network of resellers, helping to maximize product sales and monthly recurring revenue. New turnkey services include: SIP trunks for POTS line replacement and additional calling capacity, local numbers in 45+ Canadian markets, attractive wholesale long distance, cellular dial-around and unified billing for both ThinkTel and other services.
Designed for businesses with under 25 employees, Sutus Business Central™ integrates all essential IT and communications tools a small business needs into a single, easy to use appliance. It is a business-class phone system with a wide array of advanced data and networking functions such as: file server, email server, router, firewall, wireless access point, VPN remote access server, automated backups, and with the ability to simultaneously support both standard phone line and VoIP connections.
John Wigboldus, VP Sales and Channel Development for Sutus, commented, 'ThinkTel is a major player in the VOIP services market. Integrating their offering with Business Central opens up a host of new services to our resellers and supports our position at the forefront of advanced phone, data and networking solutions for small businesses.'
'Sutus Business Central is an ideal product for any small business looking to gain maximum efficiency and flexibility from their phone and IT infrastructure. It is a natural fit for our wide range of VOIP services,' said Dave Damer, President of ThinkTel. 'And we look forward to working with Sutus further as this market sector continues to grow'.
Companies interested in becoming a Sutus reseller should contact John Wigboldus on 778-371-5286 x2108 or via email at jwigboldus at sutus.com
About Sutus
Sutus provides small businesses with an enterprise quality all-in-one solution that delivers telephone and office network infrastructure that is affordable and robust. Sutus Business Central significantly improves a reseller's ability to profitably service small business customers with locations of 25 users or less. For additional details, please visit http://www.sutus.com. For more information please contact Sutus at (778) 371-5286 or by email at info at sutus.com.
About ThinkTel
ThinkTel is a leading provider of wholesale voice over broadband solutions and advanced voice applications. ThinkTel enables it's customers to deliver VoIP solutions without the need for technical staff or capital investment. ThinkTel provides all the required services such as E911, order and provisioning systems, unified billing, and support. ThinkTel owns and operates a National network with over 45 markets in Canada. To become a ThinkTel reseller contact us at 866-928-4465 or by email at info at thinktel.ca
###