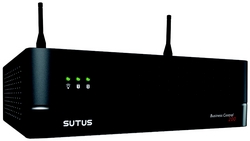 Winning this award in our first year underscores just how unique the Business Central is
Vancouver, BC (PRWEB) January 29, 2008
Sutus Inc., a leading manufacturer of converged Phone, Data and Networking solutions, today announced that Internet Telephony® magazine has named the Sutus Business Central™ as the winner of its 2007 Product of the Year Award.
Designed for businesses with under 25 employees, Sutus Business Central™ integrates all essential IT and communications tools a small business needs into a single, easy to use appliance. It is a business-class phone system with a wide array of advanced data and networking functions such as: file server, email server, router, firewall, wireless access point, VPN remote access server, automated backups, and with the ability to simultaneously support both standard phone line and VoIP connections.
"Sutus has proven they are committed to quality and excellence while addressing real needs in the marketplace. Internet Telephony is pleased to grant a 2007 Product of the Year Award to their Business Central," said Rich Tehrani, TMC President and Editor-in-Chief of Internet Telephony magazine. "We're proud to honor their hard work and accomplishments and look forward to further innovative solutions from Sutus in the future."
"Winning this award in our first year underscores just how unique the Business Central is" said Shawn Chute, Sutus EVP "As a relative newcomer, we are able to bring something fresh and innovative to the market that the customer and the channel just haven't seen before. Remote offices, soft phones, VPN access, a single inbox for voicemail and email and an unparalleled ease of use factor are just some of the integrated features that delight both our end-user and the channel.'
About Sutus
Sutus was founded on the notion that small businesses want and need the same advanced technologies as big businesses, but without the big business complexity or price tag. With the unique needs of small business as our guide we developed Sutus Business Central™ - a unique all-in-one office communications system providing advanced data and networking capabilities and a business-class phone system all wrapped together in a time and cost saving, easy to use management tool. For additional details, please visit our website at http://www.sutus.com or call us at (778) 371-5286 or email at info at sutus dot com.
About Internet Telephony magazine
Internet Telephony has been the VoIP Authority since 1998™. Since the first issue in February of 1998, Internet Telephony magazine has been providing unbiased views of the complicated converged communications space. Internet Telephony offers rich content from solutions-focused editorial content to reviews on products and services from TMC Labs. Internet Telephony magazine has a circulation of 225,000 including pass-along readers. For more information, please visit http://www.itmag.com.
For more Sutus-related media information or images please contact:
David Matthews
Distinct Public Relations
+1 778 855 2335
Jon Paul Janze
Sutus Inc.
778-371-5286 xt 2103
Internet Telephony magazine Contact:
Jan Pierret
203-852-6800, ext. 228
###