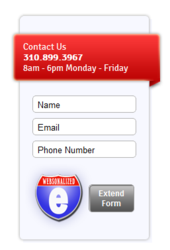 (PRWEB) April 30, 2012
The service includes research of relevant words and phrases for products and service that will be promoted through the site, and website structure and design consultancy. The new service was announced in response to Google's initiative "California Get Your Business Online," which offers a free website to California businesses.
The free website consists of free hosting for a 3 page site and a free registration for a domain name for the period of one year. Other services can be added. After one year, yearly fee for the domain is 24 dollars and approximately 60 dollars for hosting the website. To sign up for a free website, California residents can follow this link: http://www.gybo.com/california/index. To sign up for a website, the user will need to create a Google account and provide a credit card.
Small businesses can maximize the use of these resources by hiring the help of small business web design company websonalized.com for 30 dollars an hour. The company helps small businesses align the design, structure, and content of the website with search engine guidelines to increase the visibility of the website among search engines. Furthermore, the company tries to educate clients about monitoring website activity and off page search engine optimization, which cover topics such as how to generate inbound links, how to market the website throughout the internet, and other tactics that often become a website's manager focus of attention.
Fill up this form to contact websonalized.com for a web design, or any website related question: http://websonalized.com/contact-small-business-web-design.html
Websonalized.com specializes in small business web design. Any web design package includes 1 year hosting, $100 credit Google advertising, 1 year basic support, 1 year maintenance, social media integration, newsletter integration, website monitoring tools and search engine optimization architecture.