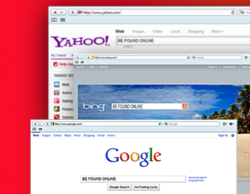 From observing the patterns of a consumer driven economy, the company warns small businesses of the prescient need to hone internet savviness
Los Angeles, CA (PRWEB) April 30, 2011
websonalized.com, small business web design company in Los Angeles, announced the addition of basic web services and consultancy to its core product at no cost in an effort to increase the number of small businesses that make the website a tenet of their marketing tools.
Hosting, maintenance, security updates, online communication solutions, and sophisticated analytical tools are now part of the company's web design services. The company hopes that easing the burdens of incorporating online marketing to the business strategy will reduce the stress of small business owners as they build a sales agent out of their websites.
Furthermore, the company intends to educate small businesses about the benefits of being found by internet users from their local markets through search engines. Veronica Cisneros, lead developer and online marketer, said she often comes across small business owners that think the website is a "digital brochure."
By giving these incentives, the company is positioning itself to help small businesses take advantage of Google's update of their page ranking algorithm, the Panda update. The company believes right now small business have a unique opportunity to get a share of search traffic, "particularly for local and niche markets."
From observing the patterns of a consumer driven economy, the company warns small businesses of the prescient need to hone internet savviness. By sending the basic online tasks to the back burner, the company hopes to shift attention from technical tasks to systematic, easy to follow steps, that are of more value to the small business owner.
The web design company follows search engine optimization guidelines, making it easier for the owner to increase the visibility and relevancy of the website. To help clients get acquainted with pay per click advertising, the company provides a credit towards Google's AdWords program. The company practices open and candid communication with the intent to elucidate its clients about the logic of online marketing.
About the Company
websonalized.com specializes in small business web design. Its web designs are characterized by the incorporation of search engine optimization guidelines. Serving small businesses, independent contractors and consultants, the company provides basic web services and off page search engine optimization education at no cost to its client. Since 2011, the company is a member of Google's engage program, and has been trained in PPC marketing.
# # #