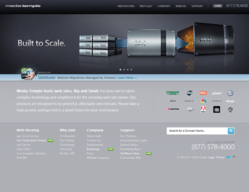 ...moving from one host to another impinges costs that ripple throughout a business...
Los Angeles, California (PRWEB) November 30, 2011
Small business web design company, Websonalized.com has acquired a new web host, mediatemple.com, for improved technical support. Media Temple promises 24 hour support, 7 days a week, 365 days per year from a U.S. based support system serving over 60 countries.
Websonalized.com switched companies when the previous web host presented technical support issues and was unable to support an unlimited number of files.
Lead web designer and developer at websonalized.com, Veronica Cisneros says, "It is important to be with a serious web host, because moving from one host to another impinges costs that ripple throughout a business. We had to delay all projects for two weeks to migrate from one web host to the other. Learning to use the new web host utilities and configuring websites required time. As I gain experience, I recognize the importance of choosing companies that are reliable and professional. Getting refunds, following up with emails, and filing complaints is expensive for all involved."
Websonalized.com offers all small business clients 1 year hosting, $100 credit Google advertising, 1 year basic support, 1 year maintenance, social media integration, and search engine optimization architecture, with any web design package.
For inquiries or questions regarding services and pricing for these web services, please fill up this form: http://websonalized.com/contact-us-site-administration.html.
About websonalized.com:
Los Angeles web design company websonalized.com was formed last year. Whether a business already has a website or needs one developed, websonalized.com gives businesses the tools to manage their sites and teaches business owners standard practices to gain visibility throughout the internet. From their experience, they map out what works to make a business's website relevant to the main search engines including Google, Bing and Yahoo. All efforts are geared towards making a website found when internet users are searching for their services and/or products.
About Media Temple:
Mediatemple.com is a web hosting and cloud services provider headquartered in Culver City, CA. Since 1998, the company has provided businesses and consumers around the world with professional-class service to host websites, applications, virtual servers, email, and other rich Internet content. The company serves approximately 100,000 customers over 1 million websites.
###