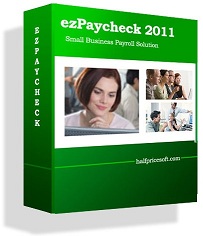 EzPaycheck software helps small business owners print each paycheck on time.
Los Angeles, CA (PRWEB) September 03, 2011
For small business, employees' productivity is critical for business success, especial amid downturn. Payroll activities are critical to a business. After all, a paid employee is a happy employee and a business runs better when employees are happy. Halfpricesoft.com (http://www.halfpricesoft.com) released the new version of its popular ezPaycheck payroll software, which gives small businesses and non-profits the easy-to-use and affordable payroll tax solution they need to get started on the right foot.
Newly released 2011 edition of ezPaycheck software gives small and mid-size businesses more options and flexibility in doing payroll and printing checks than ever before. This new version includes not only updated federal and state tax tables, but also additional printing formats, additional reports, and ability to print Forms W2, W3, 940 and 941.
Small business owners who are looking ways to simplify payroll tax processing can try this software at http://www.halfpricesoft.com/payroll_software_download.asp. The main features include:

Prints payroll checks on blank computer checks or preprinted checks.
Automatically calculates Federal Withholding Tax, Social Security, Medicare Tax and Employer Unemployment Taxes.
-Includes built-in tax tables for all 50 states and the District of Columbia.
Creates and maintains payrolls for multiple companies, and does it simultaneously.
Supports Daily, Weekly, Biweekly, Semi-monthly and Monthly payroll periods. Features Report Functions, Print Functions, and Pay Stub Functions.
30 day free trial. No registration required and absolutely no obligation
"Tax issues are the single most significant set of regulatory burdens for most small firms. We believe small business should focus their time and energy on running their businesses, not trying to figure out how to run payroll software and report tax" explains Dr. Ge, President and Founder of halfpricesoft.com, "EzPaycheck software helps small business owners print each paycheck on time."
Priced at only $89 per installation, this easy-to-use payroll and check printing software solution is affordable for any business - no matter how many or how few employees the business has. Trying ezPaycheck 2011 is totally risk free. Business owners and payroll managers can download the fully functional software for free and try it without obligation for 30 days.
About Halfpricesoft.com and ezPaycheck payroll software
ezPaycheck is developed and distributed by Halfpricesoft.com, a Louisville, Ky.-based firm committed to creating affordable and easy-to-use financial software for small businesses. Additional small-business payroll software titles available from Halfpricesoft.com include w2 1099 software, check printing software, employee time tracking software and barcode printing software.
To start the test-drive, visit the site at: http://www.halfpricesoft.com/index.asp
###