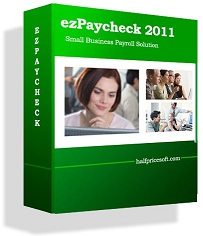 The United States has almost 6 million small employers. We always keep in mind that our customers are small business owners, not computer whizzes or financial gurus.
Los Angeles, CA (PRWEB) September 21, 2011
Many small business owners know payroll software can save their time and money. However, they are still calculating payroll taxes and writing check manually because many payroll applications on market are too complex and too expensive for them. Halfpricesoft.com (http://www.halfpricesoft.com) released the new version of ezPaycheck payroll software, which comes with so intuitive and user-friendly interface that first time users without an accounting background can start doing payroll immediately after installation.
The newly upgraded version of the already popular product was updated according to the suggestions from customers including:

New form-level Help buttons
Faster, easier Year-to-Date key function
Updated "Generating New Paycheck" screen
Improved data back-up and restore features
"The United States has almost 6 million small employers, 90 percent of which employ fewer than 20 people and do not have accountants on staff," explains Dr. Ge, President and Founder of halfpricesoft.com. "We believe payroll and tax software should be designed for the non-technical people who are actual end-users. We always keep in mind that our customers are small business owners, not computer whizzes or financial gurus."
Founded in 2003, Halfpricesoft.com has established itself as a leader in meeting the software needs of small businesses in US. ezPaycheck software is designed to automate paycheck processes to reduce the time spent on running payroll. The software's graphic interface leads users step-by-step through setting up employee information, importing data, calculating payroll - including calculation of federal, state and local taxes; deductions for Medicare, insurance and 401(k) plans; and printing paychecks. New user can download and try this software for free with no obligation and no cost at http://www.halfpricesoft.com/payroll_software_download.asp
Realizing that many small businesses are still suffering in an economy that continues to lag, Halfpricesoft.com announces the new special promotion on ezPaycheck 2011 and ezPaycheck 2012 bundle version. Small business owners who purchase ezPaycheck 2011 from halfpricesoft.com for the low price of $89 before Oct 15, 2011 can get the 2012 edition of ezPaycheck for just $1 more
Purchasing the ezPaycheck 2011 + 2012 combo packag e is risk free for business owners. Users can sample the software for up to 30 days to ensure it meets all their needs before purchasing.
"In tough economic times, how to increase business productivity is critical for any company, "said Dr. Ge, founder of Halfpricesoft.com. "We hope ezPaycheck payroll software can help business owners spend less time understanding what tax rate they should pay and more time ensuring their business succeeds."
To start the free test drive, visit http://www.halfpricesoft.com/index.asp
About Halfpricesoft.com and ezPaycheck payroll software
EzPaycheck is developed and distributed by Halfpricesoft.com, a Louisville, Ky.-based firm committed to creating affordable and easy-to-use financial software for small businesses. Additional small-business payroll software titles available from Halfpricesoft.com include w2 1099 software, check printing software, employee time tracking software and barcode printing software.
# # #