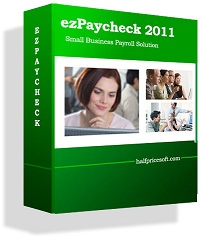 We believe small business should focus their time and energy on running their businesses, not trying to figure out how to run payroll software and report tax.
Atlanta, GA (PRWEB) October 20, 2011
Pen and paper is the "cheapest" payroll processing method for small businesses, but it can also be the most expensive. According to the IRS, 40% of small businesses pay an average of $845 per year in payroll penalties for late or inaccurate tax filings. Halfpricesoft.com (http://www.halfpricesoft.com) released the new version of ezPaycheck payroll software, which comes with so intuitive and user-friendly interface that first time users without an accounting background can start doing payroll immediately after installation.
The newly upgraded version of the already popular product was updated according to the suggestions from customers including:

New form-level Help buttons
Faster, easier Year-to-Date key function
Updated "Generating New Paycheck" screen
Improved data back-up and restore features
Founded in 2003, Halfpricesoft.com has established itself as a leader in meeting the software needs of small businesses in US. The new edition of this easy-to-use in-house payroll system is released with the current tax tables, tax forms and the enhanced user interface design. And customer satisfaction is ensured with the risk-free 30-day Trial at http://www.halfpricesoft.com/payroll_software_download.asp.
"Tax issues are the single most significant set of regulatory burdens for most small firms. We believe small business should focus their time and energy on running their businesses, not trying to figure out how to run payroll software and report tax" explains Dr. Ge, President and Founder of halfpricesoft.com.
EzPaycheck payroll and check printing software is designed with small business users in mind and is easy to use from day one. It is loaded with intelligent, intuitive features, but not burdened by complicated suites of expensive applications small businesses will never use or need. It can handle federal taxes, state taxes, local taxes, printing payroll checks, and also support tax forms 940, 941, W-2 and W-3. This payroll application is ideal for owners of small to mid-sized businesses, and was designed and engineered for ease-of-use by those who have only basic computer skills and little accounting know-how.
The main features of ezPaycheck payroll system include:

Automatically calculates Federal Withholding Tax, Social Security, Medicare Tax and Employer Unemployment Taxes.
Built-in tax tables for all 50 states and the District of Columbia.
Unlimited Employees, unlimited check printing
Support tax forms W2, W3, 940 and 941
Prints payroll checks on blank computer checks or preprinted checks.
30 day free trial
Realizing that many small businesses and organizations are still suffering in an economy that continues to lag, Halfpricesoft.com announces the new special promotion on ezPaycheck 2011 and 2012 bundle version. Small business owners who purchase ezPaycheck 2011 from halfpricesoft.com for the low price of $89 this fall can get the 2012 edition of ezPaycheck for just $1 more.
During a time of economic uncertainty, how to improve productivity is important for any business. And the absolutely best way to determine if payroll software will work for a company is to try it
To start the no-obligation free test drive, visit the site at: http://www.halfpricesoft.com/index.asp
About Halfpricesoft.com and ezPaycheck payroll software
ezPaycheck is developed and distributed by Halfpricesoft.com, a Louisville, Ky.-based firm committed to creating affordable and easy-to-use financial software for small businesses. Additional small-business payroll software titles available from Halfpricesoft.com include w2 1099 software, check printing software, employee time tracking software and barcode printing software.
###