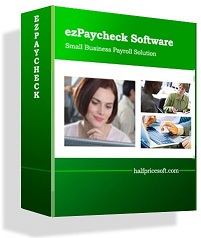 Our goal is to make ezPaycheck as hassle-free and easy to use as possible while still supplying the robust features our customers need.
Philadelphia, PA (PRWEB) December 07, 2011
Halfpricesoft.com (http://www.halfpricesoft.com) has released a new version of its popular ezPaycheck payroll software, which simplifies time-consuming payroll tasks for small businesses, enabling them to focus on their core business while reducing outsourcing expenses.
"We provide simple and affordable paycheck software that allows small businesses to do their payroll jobs themselves. Many small business owners don't know much about payroll taxes and don't have time to invest in training. They also don't need complicated features but still need to do things like paycheck processing and tax reporting," said Halfpricesoft.com founder Dr. Ge. "Our goal is to make ezPaycheck as hassle-free and easy-to-use as possible while still supplying the robust features our customers need."
The new edition of ezPaycheck small business payroll software was designed with direct input and guidance from small business owners. Features include:

Prints payroll checks on blank computer checks or preprinted checks.
Automatically calculates Federal Withholding Tax, Social Security, Medicare Tax and Employer Unemployment Taxes.
Includes built-in tax tables for all 50 states and the District of Columbia.
Includes support for tax forms 940, 941, W-2 and W-3
Supports the creation and maintenance of payrolls for multiple companies.
Supports Daily, Weekly, Biweekly, Semi-monthly and Monthly payroll periods.
Includes functions for Reporting, Printing, and generating Pay Stubs.
Available in a 30 day free trial version. No registration required and absolutely no obligation.
EzPaycheck payroll and check printing software is designed with small business users in mind and is easy to use from day one. The new edition of this in-house payroll system includes current tax tables and tax forms and an enhanced user interface design. Customer satisfaction is ensured with the risk-free 30-day trial at http://www.halfpricesoft.com/payroll_software_download.
Realizing that many small businesses and organizations are still suffering in an economy that continues to lag, Halfpricesoft.com is pleased to announce a special promotion on the ezPaycheck 2011 and 2012 bundles version. Small business owners who purchase ezPaycheck 2011 from halfpricesoft.com for the low price of $89 this holiday season can get the 2012 edition of ezPaycheck for just $1 more.
During these times of economic uncertainty, improving productivity and reducing expenses is important for any business. To start a no-obligation free test drive, visit the site at: http://www.halfpricesoft.com/index.asp.
About Halfpricesoft.com and ezPaycheck payroll software
ezPaycheck is developed and distributed by Halfpricesoft.com, a Louisville, KY based firm committed to creating affordable and easy-to-use financial software for small businesses. Additional small-business software titles available from Halfpricesoft.com include W-2 & 1099 software, check printing software, employee time tracking software, and barcode printing software.
###