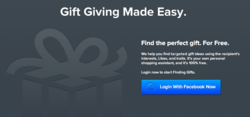 Be a Gift Superhero
Victoria, BC (PRWEB) November 23, 2012
NoPresentNoProblem, a startup in Victoria BC, is solving a huge problem: Finding targeted gift ideas for friends and family.
It's the 23rd of December. Men stumble from store to store in search of the perfect gift. Most have already given up and know they are going home with some boring kitchen appliance. The fact is, whatever the lame gift ends up being, it will either get returned, or worse sit in the back of the cupboard for the next 20 years.
Ben, the creator of NoPresentNoProblem says, "I was that guy. Each and every year I would procrastinate. Whether it was Christmas, my wife's birthday or our wedding anniversary; I would leave gift buying until the last minute. I hated it. I felt guilty and incompetent. So I did something about it. I built NoPresentNoProblem, a gift generator that acts as your own personal shopping assistant." 
The average mom spends 288 hours shopping for gifts every Holiday season. The average man spends months dreading the upcoming anniversary, birthday or holiday and ends spending a few hours buying crap that gets returned, re-gifted or thrown out. The problem is massive. 
The trick in finding the perfect gift is in knowing your recipient. Great gift ideas aren't typically very expensive. It is all about matching the recipients hobbies, interests and personality to a product. This is why NoPresentNoProblem works. The algorithm automatically sifts through your Facebook friends Likes and interests and finds appropriate small gift ideas where possible.
Social networks are the norm these days and users spend a considerable amount of time putting a ton of personal information out on the web whether it's Facebook, Pinterest, Instagram or Twitter. NoPresentNoProblem is the first to leverage that information in a powerful way for coming up with gift ideas. It's time users get a return on the time they've invested in these sites. 
The message is to stop procrastinating and get smart about finding great gifts. There are no more excuses for lame gifts nor gift reciepts. It doesn't matter if you're searching for gift ideas for your girlfriend or gift ideas for your wife. If your recipient is on Facebook, NoPresentNoProblem.com is here to help.
NoPresentNoProblem, the first ever socially enabled gift generator, was released November 8, 2012. The plan is to integrate with more platforms such as Pinterest, Twitter or Instagram.