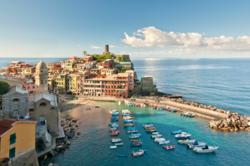 If tourists avoid Cinque Terre this year it could spell a second even more devastating disaster for the region.
Boston, MA (PRWEB) May 16, 2012
The ferocious storm that pounded the spectacular Italian Riviera cliff villages last October 25 made headlines for months because of the severe damage done to homes, shops, hiking trails, and lives. The five villages perched along the breathtaking Ligurian coastline, a UNESCO World Heritage Site and a protected National Park, are Riomaggiore, Manarola, Corniglia, Vernazza, and Monterosso. The storm came close to destroying Monterosso and Vernazza.
These villages represent what so many seek out in tours to Europe: authenticity amidst beauty. The colorful houses are centuries old and still lived in. The local people are approachable and friendly, yet fiercely proud of their heritage and their life style. The rugged mountains are stunning, dropping off dramatically into the Mediterranean Sea. Bobbing boats are tied up to worn wooden pilings around miniature harbors.
"This is a place where you don't have to enter a massive museum or cathedral or climb a Napoleonic monument," say Jean Moss, owner of small group tours company Olde Ipswich Tours. "It's where you sit on a bench with a panna cota gelato or a cappuccino; you stall for three hours over a lunch of pasta and fresh seafood; you poke into the little shops and buy some handcrafts or home-made liqueurs; and then you work off your calories with a hike along a spectacularly beautiful trail."
Small wonder, then, that these "five lands" attract over 2 million visitors per year. Yet, as a result of the damage inflicted last Fall, many in the tourism industry have suggested giving the region some time to recover before returning on tours of Italy. If tourists take this advice it could spell a second even more devastating disaster for the region, which depends almost entirely on tourism for economic survival.
For those taking tours to Europe this year, there are, of course, less noble reasons to include the Cinque Terre. Riomaggiore, Manarola and Corniglia are just as they have been for hundreds of years. And with hundreds of blog posts, forums and appeals for help, the tiny villages of Vernazza and Monterosso have conquered almost insurmountable odds, accomplishing their goal in just six short months. Each town has a website that invites people who care about its future to follow its progress and spread the word to help (http://www.savevernazza.com and http://www.rebuildmonterosso.com).
"Many customers have asked us if we will continue to put Cinque Terre on our tours of Italy," says Moss. "This is when I assure them, 'Absolutely!' We will continue our small group tours to this magical coastline and show them the preciousness, the fragility, and the uniqueness of this beautiful historic region."
All five villages are now ready to welcome visitors, and promise an even more unforgettable experience than usual. In addition to all the normal appeals of the region, this year tourists will experience firsthand the powerful sense of community and the love of these lands which enabled two small villages to come together to re-build their washed-away streets, and a hope for the future.
To find out more about Olde Ipswich Tours' tours of Italy, including the Cinque Terre, please visit http://www.ipswichtours.com/tuscany_umbria.html.
Olde Ipswich Tours is a small group tours operator based in Ipswich, Massachusetts, specializing in culturally rich, gourmet tours to Europe. For a complete list of upcoming small group tours, or to learn more about Olde Ipswich Tours, visit our site today.