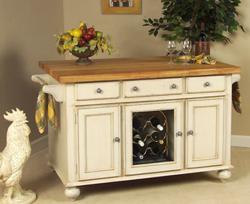 Small kitchen islands can be a wonderful improvement to a storage-limited kitchen.
(PRWEB) June 12, 2013
HomeThangs.com – the Online Home Improvement Store has made their goal to deliver the right product to the consumer. With that in mind, shopping and home design tips, as well as special product selections are being introduced.
Kitchen islands are among the most desirable features in kitchen design today, but many homeowners with smaller kitchens feel that this trend is not for them. The truth is, small kitchen islands can be a wonderful improvement to a storage-limited kitchen, and HomeThangs.com has released a guide to choosing and placing one that's the right size and shape.
First and foremost, any island should be a natural part of the kitchen it's in. That means a huge luxury island has no place in a tiny kitchen; just because an island can fit doesn't mean it should. For a kitchen island that can be used comfortably, there should be at least a 36″ walkway on all sides of the island, more if multiple people use the kitchen at the same time. A smaller island is always preferable to a larger one that will block an important thoroughfare.
Any kitchen island should also allow ample room for the doors of all appliances to be fully opened. This is an important detail that's easily overlooked, and a to-the-inch measurement won't suffice. There should be enough room that the appliances can be used comfortably while fully opened.
The most compelling reason not to have a kitchen island in any size kitchen, but especially in a smaller one, is that they can be a little obtrusive. Fortunately, this is a problem that's easily avoided with a little care and attention. Every kitchen has what's known as the work triangle, the three points being the refrigerator, stove, and sink. Installing a kitchen island that blocks any of the pathways between these three fixtures will only be frustrating, so kitchen movement should be just as big a consideration in determining size and shape as the dimensions of the kitchen.
What kind of storage the island will incorporate is another important consideration. Open islands are nice for basket storage, shelves are great for cookbooks or wine bottles, and closed cabinets can extend pantry storage or even offer room for more small appliances. The kitchen island offers an excellent opportunity to fill the void of whatever type of storage the kitchen lacks.
When home design shows talk about kitchen islands, they're really talking about entertaining hubs – islands with a sink and range and seating for four or more, Benihana style. But in a relatively small kitchen, the focus should be less on entertainment and more on maximizing prep space. Small square or circular islands with built in butcher blocks are perfect for this, essentially adding a floating cutting board to the middle of the kitchen and allowing more surface space for setting down ingredients, preferably in the center of the work triangle.
A small kitchen probably won't have enough room for a full breakfast style kitchen island with seating for the whole family. But with a little creative designing, it's entirely possible to incorporate one or even two seats without taking up much space. For a custom kitchen island, consider incorporating a counter top that extends a few extra inches off the side of the island on one or two sides. Or, look for a pre-made island with an open base large enough to store a small bar stool or two when they aren't in use. Either way, this makes a pleasant place for breakfast for one, a place to take phone calls, jot down notes, or just sit and read while waiting to rotate baking sheets.
To find out more about incorporating kitchen islands into a smaller kitchen, read the full article here, or check out some small kitchen islands from Kaco and Hardware Resources.
HomeThangs.com is not only a home improvement superstore, it also provides expert design tips and a comprehensive shopping guide, taking the ideas from professional interior designers, and offering tips to the consumers on how to pick the products to best suit their needs.