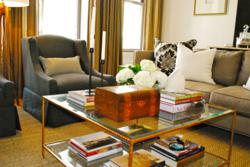 Allison's peaceful Tribeca abode is a gentle reminder that, whatever may lie outside your door, home is wherever you make it.
Montgomery, Alabama (PRWEB) November 02, 2012
Any busy Manhattan workingwoman wants a little peace and quiet when she comes home, and Allison Falkenberry is no exception. When the high-powered communications professional moved into her new apartment in the heart of Tribeca, she wanted a calm, no-fuss retreat to escape the hustle and bustle of daily city life. She hired Ashley Gilbreath, founder of Montgomery, Alabama-based Ashley Gilbreath Interior Design, who recently finished the project. Allison is thrilled with the results.
"I manage media relations and corporate communications for a healthy lifestyle company, including book publicity as well as international and digital properties," Falkenberry says. "With so many assets to oversee and media moving at lighting speeds, my day is extremely challenging and always full. I often take responsibilities home with me, so it's essential that I come home to a well-appointed, calm space where I can both work and relax."
Using a neutral color scheme, Ashley layered tone and texture to give warmth and character to the new home. Crisp white walls throughout the space help the 700-square-foot apartment feel bigger than it actually is, while the proportion and scale of the furnishings keep the space comfortable, not crowded.
Thanks to an eclectic, but cohesive, mixture of traditional, contemporary, and industrial-style furnishings and a color palette of creams and warm grays, Allison found exactly what she was looking for.
"We approached this space with a very clear focus: To make sure Allison could come home at the end of a grueling day and feel at ease," designer Ashley Gilbreath notes. "We created a timeless yet fresh space using modern lines, classic pieces, and neutral tones."
The honey-colored, sisal rug that adds soft texture underfoot and complements the warm oak floors anchors the main living area. Linen draperies gently filter the natural light that pours into the living and kitchen space.
Ashley created a casual seating area using the linen sofa with nailhead trim, charcoal gray lounge chairs, both from Mitchell Gold + Bob Williams, and a metal-armed side chair upholstered in creamy tufted leather. A Calvin Klein media console is joined on either side by sculptural metal-and-glass shelving for books and as a display space that is neither heavy nor overbearing.
"Successful media professionals must be well read, so bookcases and a tranquil reading space are extremely important to me," Allison explains. "I wanted a space that had an academic or scholarly air."
In the kitchen, high-gloss white cabinetry reflects light while blending in with the walls. This allows the living and dining areas to feel like one large space. The kitchen island provides additional storage and food prep space. Allison and her guests enjoy convenient seating on the trio of wood and metal barstools.
To establish the entrance as a foyer, Allison's desk doubles as a console table. Across from the office niche, drapery panels separate the bedroom area from the rest of the living space. Her upholstered headboard with nailhead detail is flanked on either side by swing-arm sconces to provide the sleeping area with soft lighting options.
"This apartment is a perfect example of how good design can make a small space feel bigger by using neutral color tones to create a timeless space that will translate anywhere," Gilbreath says.
Allison's future plans of living on the sandy shores of Rosemary Beach, Florida, were taken into consideration throughout the project. Ashley chose furniture and finishes that would translate from the city to the beach. The architectural lines of the furnishings, simple but sophisticated color palette, and mixture of hard and soft materials are equally at home in the big city or on the shore.
Allison's peaceful Tribeca abode is a gentle reminder that, whatever may lie outside your door, home is wherever you make it.
Ashley Gilbreath Interior Design began conceptually in 2005 and became reality in 2007. Gilbreath's dream was to bring to Montgomery what seemingly more cosmopolitan Southern cities like Atlanta, Charleston, and Nashville already had: a full-service interior design firm with a fresh attitude and an unbridled style. Often working in the traditional style of the South, Gilbreath strives to provide a timeless foundation for clients as they develop their own design style.
For more information, visit http://www.ashleygilbreath.com or call Ashley at 334-262-3231.