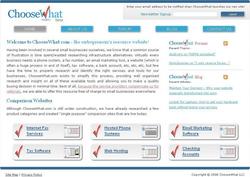 The central ideology behind each website
Austin, TX (Vocus) October 23, 2008
Following the stock market crash, the economy has been in shambles, forcing businesses to tighten budgets and develop sharper, more effective, business practices. Data shows that small businesses and entrepreneurs who are trying to keep up with successful businesses today are turning in significant numbers to the web. The main reason behind the move online is that, although it's been criticized for somewhat inaccuracies and unreliability, internet advertising, marketing and demographic targeting are often less expensive than traditional methods of promotion.
Perhaps the biggest benefit of utilizing the web is that the internet still offers relatively unfettered possibilities of business expansion. Taking a business online, however, is still a process that requires effort and time spent laying the foundations of a solid infrastructure. To start the process, it may be as simple as putting up a website and setting up a telecommunications network.
But which web host should a person use to host his or her site? Which internet fax service or hosted phone system is the most reliable? For the answers to these most basic questions, people have started to refer to ChooseWhat.com.
Zilker Ventuers, the company behind new small business resource ChooseWhat.com recognizes the need for time and cost-effective online solutions. ChooseWhat.com, a one-stop-shop for small business owners and entrepreneurs, combines the useful information and labor-intensive reviews of all of Zilker Ventures' previous websites.
Zilker Ventures has put out comprehensive review websites relating to small business/start-up essentials. Since their respective launches, the websites have pulled in thousands of monthly viewers and users, who continue to utilize the B2B data and reviews to make relatively quick decisions. Users have saved time researching small business necessities like tax software, email marketing software, web hosting services and e fax services, among others.
"The central ideology behind each website," says Zilker Ventures CEO Leo Welder, "has been to provide quality, unbiased reviews of online products and services that aren't necessarily determined by affiliate marketing relationships."
Many online review sites have been motivated by the current trend to give or show preference to the brand names that provide the most payouts through their affiliate relationships. Contrastingly, Zilker Ventures does not rank market competitors based on expected monetary benefit. In fact, on its web hosting review website, HonestHostingOnline.com, the company touts the fact that the site is hosted on HostGator, Zilker Ventures' personal favorite service provider.
Though a product or service may be inexpensive, it may not always be the most effective option for a business. On the other hand, costly options can be just as ineffective as their competitors.
"We let entrepreneurs make their own decision about which service fits their needs. We give them every relevant piece of information we can find, but we don't make the choice for them," says ChooseWhat.com co-creator Gaines Kilpatrick.
Freedom of choice, empowerment, accountability and straight talk—Zilker Ventures' ChooseWhat.com offers these new business initiatives in an era that demands change.
For more information on online fax services and other resources for small business, please visit ChooseWhat.com.
###