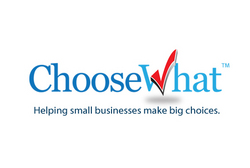 Austin, TX (Vocus) June 18, 2010
For the past 18 months, small business review and comparison website ChooseWhat.com has been helping small business owners, entrepreneurs and start-up companies select the right tools to help them run their businesses. Now, the website has a sleek, new look and feel that helps visitors fully take advantage of the robust resources available to help them run, manage and market their businesses.
"The home page's new design better reflects our goals for our readers. We have used the space to show them the different portals of the website they can take participate in: reading new reviews, commenting on recent blog posts and forum topics and a slideshow featuring some of our best 'How-To's' and small business articles," says ChooseWhat.com developer, April Coburn.
The new re-design brings Recent Vendor Reviews, Latest Forum Topics and the ChooseWhat Blog to the forefront of ChooseWhat.com's home page, where users can easily access reviews of new small business tools, answers to common product or service questions and a wealth of tips on everything from business strategies to using the latest technologies to run your business.
Coburn says the site has a more cohesive feel and improved navigation and a more cohesive feel overall, which should encourage visitors to interact with the site more and contribute to the ChooseWhat.com small business community.
Having re-designed the home page and global navigation of the site, the ChooseWhat.com development team is now working on a re-design of the ChooseWhat Blog and Forum pages, which are expected to be launched before the end of the month.
About ChooseWhat.com
ChooseWhat's goal is to inform small business people of low-cost alternatives to traditional business tools, so that they can make a quick and easy buying decision that will save their businesses time and money. Many of these tools, such as online fax services and email marketing services, are online, hosted or managed by a virtual team and do not require downloads, installation or additional hardware.
The site offers users comparison grids and product reviews, as well as Buyer's Guides and How-To Guides to get them started. The site also offers a forum, where users can post questions about specific tools and products or anything business-related. The ChooseWhat.com team strives to answer each question to the best of their knowledge and research. Users can also sign up for the ChooseWhat.com newsletter, which offers free tips, links to the latest articles and blog posts, and updates to small business products and services.
To read reviews of cheap business cards, email marketing tools, online fax services and more, please visit http://www.ChooseWhat.com.
# # #