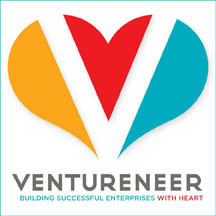 There is no one entrepreneurial archetype, but there are certain character traits that entrepreneurs tend to have
New York, NY (Vocus) September 17, 2009
Nature versus nurture is one of those age old questions. For those wondering if entrepreneurs are born or made, Ventureneer is presenting a free webinar on Monday September 21 from 2-3pm ET to help wannabe small business owners, determine if they have the right stuff. For those not available then, the webinar will be available on demand.
"There is no one entrepreneurial archetype, but there are certain character traits that entrepreneurs tend to have," said to Geri Stengel, Ventureneer's founder and the webinar's presenter. "Scoring high or low for these qualities isn't what's critical. What is critical is having a commitment to continuous learning."
What are the qualities that entrepreneurs share?
Entrepreneurs are gutsy. It takes guts to go after what you want and make decisions amid uncertainty and conflicting advice. Remaining confident when friends and family don't understand your vision for the business is difficult, so you have to have confidence in your abilities and chances for success.
Entrepreneurs are resourceful. You must be adept at doing more with less. In fact, resource constraints should lead you to be downright clever. A small staff and budget force you to focus on the most high-impact, low-cost initiatives.
Entrepreneurs are creative problem solvers. Small businesses that are complacent and uncreative risk being left in the dust by their competition. As a creative person, you are naturally curious, inquisitive, bright, and highly flexible, all of which work to your advantage as an entrepreneur.
Entrepreneurs are agile and flexible. What typically separates you as an entrepreneur from corporate executives is that you quickly adapt business practices, change course, or even pursue an entirely new direction if needed. Because of this agility, innovation takes fewer resources and is easier to implement. Entrepreneurs are unafraid to experiment and improvise, accepting failure as part of learning.
Entrepreneurs have a fire in the belly. You have a burning desire to succeed and despite setbacks and obstacles relentlessly pursue your goals. Bosses aren't needed to tell you what must be done; you have the ability to motivate yourself. You aren't afraid to work hard, in fact, you thrive on it.
Entrepreneurs are risk tolerant, can deal with uncertainty, and are resilient. A good entrepreneur like you realizes that overcoming loss and failure is inherent in becoming successful. Taking calculated risks is what you do best and you are unafraid to own the consequences. Entrepreneurs don't give up; you pick up the pieces and move on.
Entrepreneurs are willing to sacrifice. You need to be prepared to live on less than your corporate counterparts. Wear the same clothes over and over again. Eat in. Hold off on redecorating. Not take that fabulous vacation you desperately want and need.
Entrepreneurs have technical expertise. You have experience in your industry and if you don't, you go out and get it. Knowing people in the industry is as important as keeping up through reading, watching, and listening to the media. Entrepreneurs have an intellectual curiosity to keep learning as much as possible.
Social impact entrepreneurs make a difference. A social entrepreneur is driven by a social or environmental mission, a desire to find innovative ways to solve problems such as illiteracy, poverty, substance abuse and climate change. Naturally you're idealist, altruistic and have a strong ethical fiber.
Entrepreneurs have luck on their side. Never underestimate the importance of having a little luck. However, remember what Oprah says, "Luck is a matter of preparation meeting opportunity."
It is Stengel's fundamental belief that most entrepreneurs are NOT born that way; they're made. When being entrepreneurial isn't innate, there are ways to go out and get the know-how needed which Entrepreneurship: Is It for Me? will provide.
Two other free webinars help would-be entrepreneurs find and develop a business idea and determine if a business plan is necessary or busy work. Participants who attend the live webinar will have their questions answered. Those not available can access the webinars on demand.

On September 23, 2009 from 2pm to 3pm, Developing an Idea for a Startup Business takes participants who don't have an idea for a specific business but know they want to start something through the process of developing a concept they can be passionate about. It takes that passion to be successful.
On September 24, 2009 from 2pm to 3pm, Do Startups Need a Business Plan? tells participants why they need a business plan; where to find the information needed; and how to do one.
About Geri Stengel
Geri is founder of Ventureneer, an online education and peer support service. An adjunct professor at The New School, she honed her online experience at companies like Dow Jones and Physicians' Online. Geri co-founded the Women's Leadership exchange and is president of Stengel Solutions, a consulting service for social-impact organizations.
About Ventureneer
Ventureneer.com is a new approach to learning: a blend of traditional, formal instruction with informal, peer learning using Web 2.0 technology to capture and share knowledge. Ventureneer's customized blogs, virtual classes, peer-to-peer learning, coaching, web events and articles help entrepreneurs make faster, better decisions for their enterprises.
# # #